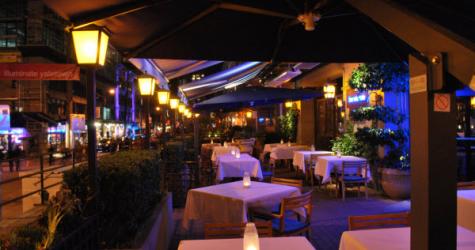 Vancouver is full of fantastic restaurants, bars, café's and other places to eat, and being such a culturally diverse city you should be able to find places serving just about every imaginable cuisine from around the world! Asian food is particularly easy to come by though.
Downtown Vancouver
Vancouver city centre has many of the high-end restaurants, many of which are aimed at visitors to the city because the restaurants are connected to a hotel, though they are also popular with the locals when looking to splurge!
There are some excellent restaurants here, known both for their great service levels and fantastic food, and if you're happy to spend a little more you usually do get what you pay for in the city centre.
Cuisines served here include French, Greek and Italian as well as seafood and some more traditional Canadian cuisine, and of course many Asian restaurants including Thai, Chinese and Japanese.
If you look a little harder you will also find that there are some restaurants serving cheaper food too and you should be able to find a good deal of places within the budget to mid-range price if you find the high-end restaurants are too high for your budget.
Kitsilano
The Kitsilano area of Vancouver is said to have the highest concentration of restaurants in the whole city, and in fact possibly anywhere! You can find food of every ethnicity imaginable here, so it's a great opportunity to try something you've never tried before!
Kitsilano is across False Creek from downtown Vancouver, using either the Burrard Bridge or Granville Bridge and the majority of places to eat are along 4th Avenue, Yew Street, Broadway and Cornwall Avenue. There's something available to suit every budget and every taste here.
East Van and Chinatown
With the second largest Chinatown in North America it's no surprise that Vancouver has absolutely loads of Chinese restaurants!
For the more authentic ethnic restaurants, East Van is the place to go. You'll also find many great dim sum places to eat, as Vancouver is famous for these. Dim sum in Vancouver is reported to be amongst the best and most affordable in the world. Of course, you should visit Chinatown if you want a good Chinese meal in authentic surroundings!
Other Areas
If you're staying in a hotel outside of the city centre there are always countless other restaurants where you can find good food too.
Staying with the oriental theme, Richmond, for example, has a very high concentration of Chinese restaurants as many of its inhabitants are Chinese or of Chinese descent. The main streets for these are Alexandra Road, No. 3 Road and Westminster Highway and these may be a good option for someone staying in an airport hotel as the airport is very nearby.