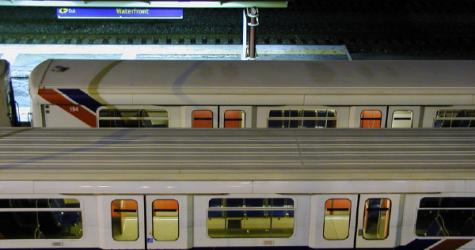 Vancouver has an extensive and affordable public transport system which makes it easy to get around. There is quite a lot of traffic in Vancouver and parking can sometimes be a problem, so even if you're coming to the city by car you may want to consider leaving this at your hotel and using public transport and your feet!
Public Transport
As mentioned, the Public Transport system in Vancouver is extensive and user-friendly, and you have several options. Here's a short summary, but for full details of the services, please visit our main Public Transport page:
The SkyTrain
The SkyTrain is always a popular choice. It runs along mainly on an elevated track so can sometimes give some good views around the city.
There are two lines, both of these covering downtown.
Bus
Buses are frequent and cover many different routes. If you're staying outside of the main downtown core buses can offer more convenience for getting into the city if you're not near a SkyTrain station.
SeaBus
The SeaBus connects you from Vancouver downtown to the North Shore and is a passenger service only. The terminal at the downtown end is right near the SkyTrain station so you can easily walk from one to the other.
Water Taxi
For shorter water crossings you can use the water taxis which operate across False Creek and offer a quick and scenic way of crossing this relatively small stretch of water. These aren't operated by Vancouver's public transport company, Translink, though there are two private operators to choose from: False Creek Ferries and the Aquabus.
Visit our Getting Around Vancouver By Boat page for further information on the Water Taxis.
Bicycle
Vancouver is a bicycle-friendly city and there are many bike lanes around it. You can easily rent a bicycle by the hour, day or week from several different renters and often tandems are available too!
Our Getting Around Vancouver by Bicycle page includes information on where to rent bikes and how to get around.
Walking
Bicycles are popular in Vancouver, but so is walking! Our Getting Around Vancouver Walking page discusses the advantages of walking and how to make the most of walking around the city.
Taxi
Like all major cities, Vancouver has many taxis which can give you a door-to-door service. Find out how to catch a taxi and some hints and tips on our main Getting Around Vancouver by Taxi page.
Car and Motorbike
Many visitors, particularly from the United States and the rest of Canada, will be arriving in Vancouver by car or motorbike, or you may be looking to rent a vehicle once you've arrived. We offer information on parking and renting on our Getting Around Vancouver by Car and Motorbike page.
Organized Tours
Organized tours are a great way to see the city and there are so many more than just the typical bus tours these days! Our Getting Around Vancouver by Organized Tours page gives you details of tours you may not have considered, including walking, cycling, boat tours, audio tours and of course bus tours!
Getting To/From the Airport
If you're coming to Vancouver by air, the first thing you'll need to do is find your way from the airport to the city. Your options include public transport, express bus services and taxi. Find out more on our Getting To/From the Airport page.