Getting around Vancouver by bicycle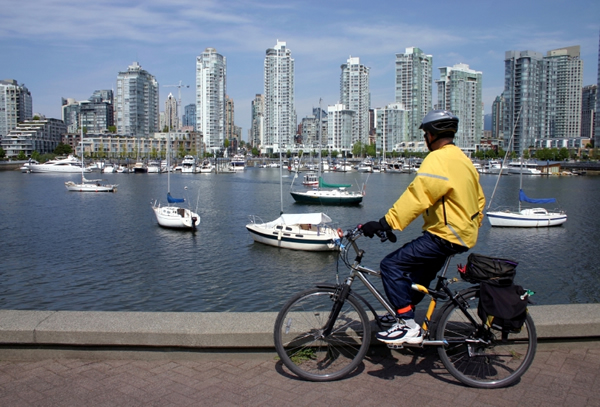 The following information should help you get the most out of getting around Vancouver by bicycle.
Stanley Park
Probably the most popular place to ride a bike in Vancouver is around Stanley Park. The Seawall route circumnavigating Stanley Park is bicycle friendly, though do remember to share the path with other users too, such as those on roller-blades. This route goes all the way around the park and gives you great views of Downtown Vancouver and beyond. Because of the smooth and flat surface, this route is enjoyable on all kinds of bikes, especially tandems, and is great for all ages and capabilities!
There's also the interior of Stanley Park to explore by bicycle too, which is good on really hot days because you get shaded by the trees! There are several bicycle-specific trails crossing the park for you to enjoy.
Visit the Vancouver Park Board website for more information on cycling in Stanley Park, including maps.
Downtown Vancouver
Once you've explored Stanley Park you can continue on the Seawall back into the downtown area. Follow the path all the way around False Creek, or you can take a short cut and nip across the Burrard Bridge and into Vanier Park. From here there are many options where you can join cycle routes which are 'on-street', giving you miles of opportunities for exploration!
The City of Vancouver produces a Bicycle Route map which also contains loads of information on getting around Vancouver by bicycle. Click here to see the Bike maps.
Bicycle Rentals
There are several companies in Vancouver who offer bicycle rentals. Two of these are right near the entrance to Stanley Park so very convenient if you're planning to explore the park.
Rentals are available for the short term – by the hour and upwards to a full day's rental. Bayshore Bike Rentals also offers long-term bicycle rentals too, of up to 7 days and beyond, if you're staying in Vancouver for longer.
Rates and the range of bicycles available vary with the different stores. Visit their websites to find out more:
Bicycle Tours
Organized Bicycle Tours around Vancouver are also available. See our Vancouver Organized Tours page for more information on these.