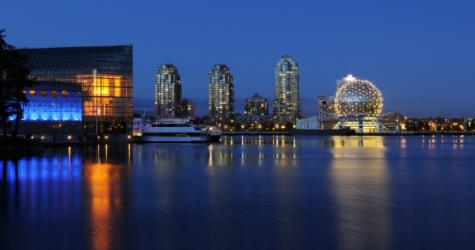 Vancouver is a vibrant city with plenty to keep visitors occupied both day and night; whether you like partying, the arts, music or festivals you'll find it all here!
Bars, Clubs and Pubs
The majority of Vancouver's night clubs and bars are located in the downtown area, so convenient for anyone staying in a hotel here.
Vancouver's Entertainment District is along Granville Street from Robson Street to the Granville Street Bridge, so this is where you should head for. You'll find venues which cater for all music and drink tastes here, and what city isn't complete without at least one Irish pub?!
There are many clubs which feature live music, which are great for rock, jazz, blues and country lovers in particular and if live music is your thing, check out whether any big-name bands are playing at the Pacific Colisuem whilst you're in Vancouver.
Cinemas
What better place to watch a Hollywood blockbuster than the city it was filmed in! Vancouver is home to the filming of more and more big Hollywood productions, as filmmakers come here for cheaper production costs and good weather.
Most of the mainstream cinemas in the city centre are on Theatre Row, which is Granville Street between Robson and Nelson Streets.
Theatres
There are a good variety of theatres in Vancouver. The main two venues are the Queen Elizabeth Theatre on Hamilton Street and the Ford Centre for the Performing Arts on Homer Street, though there are also others including Vancouver's oldest theatre and home of the Vancouver Symphony Orchestra, the Orpheum Theatre on Granville Street.
Festivals
Vancouver has many festivals throughout the year, many of which are reflective of its diverse culture.
One of the most popular is the Celebration of Light Fireworks Festival which attracts over 1 million visitors every year and is the largest fireworks 'competition' in the world. This takes place from English Bay over 4 nights at the end of July and beginning of August (dates for 2008 are July 23, July 26, July 30 and August 2) and is highly recommended.
The fireworks last for about 25 minutes and are accompanied by music which is played by the local radio station, so even if you're not in English Bay you can still hear the music. There are many vantage points around the city including the public beaches, where you can watch for free.
The Fringe Festival is held over 11 days, every year, and attended by about 100 theatre groups and performers from around the world who perform in a variety of venues around the city.
The Chinese New Year is a big event here and usually includes a parade and other festivities. Later in the year, in June, there is the Dragon Boat Festival on False Creek and the Lantern Festival in Trout Lake Park in July.
The Vancouver Folk Festival is a popular live music event, whilst the Jazz Festival is growing in popularity and size too.
Whatever you like, Vancouver is bound to be able to entertain you in some way or other!