Shooting New Moon Film in Vancouver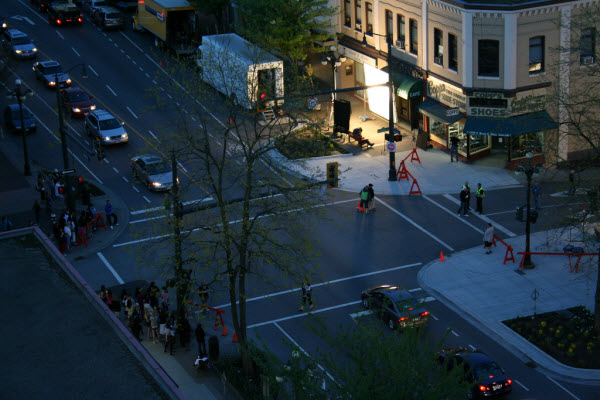 The Successful Twilight Saga
Stephenie Meyer's Twilight saga is captivating millions of readers all over the world. Its popularity and enthusiastic fan following has caught the attention of the world's media, being dubbed The Twilight Phenomenon. Stephenie Meyer and her successful Twilight saga are often compared with J.K. Rowling's Harry Potter.
Twilight's huge online fan community write their own stories and post their tales on the Internet. Stephenie Meyer's fans dress up like her characters, and there are even Twilight-themed rock bands!.
Plot Summary
Seventeen-year-old Bella Swan, has just moved from Phoenix to Forks, Washington state, to live with her father. There she finds her life radically changes when she knows a mysterious and handsome boy named Edward Cullen, who seems to have a supernatural strength and the ability to read people's minds.
When she's already crazy about him, Bella discovers that Edward and his family are vampires. Jacob Black, is a friend of Bella, who is in love with her. Jacob is also a member of the Quileute tribe, unaware that he belongs to an ancient line of werewolves, that has forever been the mortal enemy of vampires.
Twilight Saga novels
The Twilight series has become very popular, especially amongst young adults, selling over 42 million copies worldwide and have been translated into 37 different languages around the globe. The four books that make up the Twilight Story so far are:
Twilight (2005)
New Moon (2006)
Eclipse (2007)
Breaking Dawn (2008)
¿What's Twilight Saga Secret?
The back cover text of the first book Twilight reveals: Of three things I was sure: One, Edward was a vampire. Two, part of him thirsted for my blood. Three, I was irrevocably in love with him.
Twilight is a gripping blend of romance, intrigue, thrill, action, and good doses of humor, in such a way that it hooks from beginning to end, as their readers assert.
About Stephenie Meyer
Stephenie Meyer was born in Hartford, Connecticut, and grew up in Phoenix, Arizona. She married her husband Christiaan (nicknamed Pancho) in 1994, and they have three sons: Gabe, Seth, and Eli.
The idea for Twilight came to her in a dream on June 2, 2003. This dream was about a human girl, and a vampire who was in love with her but thirsted for her blood. The inspirations for her Twilight series also come from many novels:
Twilight by Jane Austen's Pride and Prejudice
New Moon by Shakespeare's Romeo and Juliet
Eclipse by Emily Brontë's Wuthering Heights
Breaking Dawn by Shakespeare's A Midsummer Night's Dream
Despite having very little writing experience, Meyer completed the first novel in a matter of three months. After writing and editing the book, she signed a three-book deal with Little, Brown and Company for $750,000, a large amount for a first time author. The editor who signed Meyer, Megan Tingley, said that halfway through the manuscript she realized that she had a future bestseller in her hands.
Awards and Nominations
Twilight has achieved critical acclaim since its first publication, in October 2005. Just a month after its release, it reached number five on The New York Times Best Seller's list. The book quickly gained recognition and won numerous honors, such as:
New York Times Editor's Choice
Publishers Weekly Best Book of the Year
Amazon.com's Best Book of the Decade...So Far
The following publications have won numerous awards as well. Stephenie Meyer was the biggest selling writer in the US in 2008 , selling more than 22 million books over the year.
Twilight Film
Twilight film was directed by Catherine Hardwicke in 2008. Twilight was released in theatres across the USA on November 21, 2008. On its opening day collected $35.7 million, and just two days after, the film had collected $379,912,947 in worldwide box office receipts.
Melissa Rosenberg wrote the screenplay for Twilight, and Summit Entertainment produced the film with a $37 million budget.
The soundtrack of the film includes tracks from Muse and Linkin Park, bands that Stephenie Meyer listened to whilst writing her novels. Rob Pattinson features as composer and singer of one of the soundtrack's songs: Never Think.
The Main Characters
The film stars are Kristen Stewart and Robert Pattinson, as human Bella Swan and vampire Edward Cullen respectively. Taylor Lautner plays the werewolf Jacob Black.
Kristen Stewart as well as Robert Pattinson have behind a crowd of fans that grows daily since Twilight's premiere. While Kristen Stewart dazzles with her beauty and natural manners, Rob Pattinson is the fans' favorite, fascinating thousands of fans with his intense look, shyness and particular beauty.
Shooting New Moon Film in Vancouver
The majority of New Moon is being shot in Vancouver, British Columbia since last March. The high school scenes in the film are taking place at the Vancouver's David Thompson Secondary School.
The Twilight's sequel release is expected by the end of November 2009 in USA. Directed this time by Chris Weitz, and with Melissa Rosenberg returning as the screenwriter.
Romance Rumors between Robert Pattinson y Kristten Stewart
Robert Pattinson and Kristen Stewart keep filming while the rumors of their romance keep going on. Last year, the american actress Kristen Stewart told Teen magazine:
Not to put down any of the other actors who came in, because they were really good, Stewart said. But everyone came in playing Edward as this perfect, happy-go-lucky guy … but I got hardcore pain from Rob. It was purely just connection.
Robert Pattinson also praised his co-star on a MTV interview: Kristen's the best actress of our generation.
Rumors have grown up since Rob Pattinson and Kristen Stewart cozy up at a concert, by their pal Sam Bradley, performed at Vancouver nightspot Richard's. British actor Rob Pattinson has repeatedly laughed off rumors of a possible romance with Kristen; while Kristen Stewart who's been dating actor Michael Angarano since 2006, stated in Nylon magazine:
Rob and I are good friends. We went through a lot together, so we feel very close, If we go out in public, every little detail is scrutinized, like the way I stand next to him.
On the other hand, Kristen Stewart has been told to keep her boyfriend away to encourage rumors with Robert Pattinson, this way the fans are kept happy.
The Volturi Arrive in Vancouver
Last week Dakota Fanning, Michael Sheen and Jamie Campbell arrived in Vancouver to start filming the Volturi scenes:
Dakota Fanning as Jane, a guard of the Volturi
Michael Sheen as Aro, the leader of an ancient Italian vampire coven known as the Volturi
Jamie Campbell as Caius, another Volturi's leader and a key character in the plot of the film.
Recent Scenes with Motorbikes
Some motorbike scenes that don't appear in the book are being filmed. In these scenes, Bella and Jessica come across a motorcycle gang as they leave the theatre. Bella decides to go on a ride with one of the gang members to try to upset Edward into appearing in her head again. However, in the book, Bella and Jessica see the gang members sitting in a pub through the window, but there were never any motorcycle scenes.
Filming in Italy
By the end of May 2009, the whole film crew will move to Italy, where the latter part of the book is set. There, they'll shoot the scenes where Edward meets the Volturis who he's asked to kill him, because of a misunderstanding with him believing Bella is dead.
But the filming won't take place in Volterra, the italian locality that appears on the book, but in Montepulciano instead. Apparently, this is because Summit's producers think that locations in Montepulciano are more beautiful for the movie.
Next Film Eclipse in Vancouver too
David Slade, the director for the new film Eclipse, was arriving in Vancouver on the 8th of May, in order to scout locations for the third film, Eclipse. Filming is expected to begin in August 2009, though there's been rumors about filming some scenes for Eclipse at the same time as New Moon's. Eclipse is scheduled for release at the end of June 2010, with Melissa Rosenberg returning as screenwriter.
Sources