Shopping in Vancouver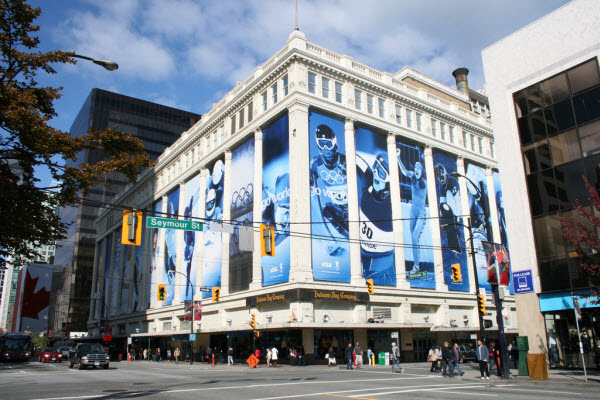 There are great shopping opportunities everywhere you look in Vancouver, from the small and quirky independent shops, to the stores lined with maple syrup, cuddly moose and more souvenirs than you know what to do with! Right in the middle of all of these you have the trusty department stores, fashion stores and more, making Vancouver a shopper's paradise!
Shopping Tips
Opening Hours
Opening Hours can vary immensely depending upon the store and the location. In the busier areas stores will be open on Sundays, though you'll usually find that the smaller, more independent stores aren't.
Typical opening hours are 10am to 6pm Monday through Saturday and noon til 5pm on Sundays. Larger stores and those in shopping malls will often stay open later on Thursdays through Saturdays and if you're in Vancouver around Christmas time you'll find the stores are generally open later in the weeks leading up to Christmas too.
Remember the Taxes!
When you're buying goods you need to remember to add on the cost of the taxes which will be added to your bill at the cash register. Very occasionally you may find some stores which quote the price including tax, but this is rare and you certainly shouldn't count on it. The taxes add up to 12% - this is 5% GST (Goods and Services Tax) and 7% PST (Provincial Sales Tax).
Vancouver Shopping Malls
Pacific Centre Mall
Pacific Centre Mall

910-609 Granville Street
Vancouver, B.C.
604-688-7235
Vancouver's Pacific Centre Mall is right in the center of Downtown Vancouver and the best known and biggest mall around. There are over 140 stores here and the emphasis is on fashion so if you love clothes shopping, you'll love the Pacific Centre Mall!
Some of the biggest names in fashion are represented here, including La Senza, Banana Republic, Esprit, Guess, H&M and Hugo Boss, though you'll also find sporting wear and goods, shoes, electronics, jewelry and accessories, and luggage. All the biggest names in these sectors too are here at the Pacific Centre Mall – Apple, BOSE, Footlocker, Sport Chek, Coast Mountain Sports and many more.
Pacific Centre Mall also has a well stocked food court which includes A&W, Taco Time, Quizno's, Starbucks and Tim Hortons.
Visit the Pacific Centre Mall Website for further information on all the stores, parking, opening hours are more.
Denman Place Mall
Denman Place Mall

1030 Denman Street
Vancouver, B.C.
604-684-9254
Denman Place Mall is located in the West End neighborhood of Vancouver. It's quite considerably smaller with over 30 stores, but Denman Place Mall offers a slightly more down to earth and low-key experience which will appeal to visitors who don't like the crowds found in Pacific Centre Mall.
Admittedly visitors to Vancouver wouldn't want to spend hours here, and if you're looking for fashion clothing this isn't the place to come, but a few of the shops may be worth the visit if you're in West End. The Stores here at Denman Place Mall include Book Lovers Haven, English Bay Jewellers and Shoppers Drug Mart amongst others. You can find the full list on the Denman Place Mall website.
Metropolis at Metrotown
Metropolis at Metrotown

Kingsway
Burnaby, B.C.
604-438-4715
For the ultimate shopping experience you have to visit the largest shopping mall in British Columbia! Metropolis at Metrotown may not be in the heart of Downtown Vancouver but it's easily reachable from here anyway, via the SkyTrain. This takes just 20 minutes and drops you right inside the center because Metropolis actually has its own SkyTrain station!
There are a whopping 450 stores here at Metropolis as well as a cinema, entertainment and an array of places to eat. Just about every chain store and every type of shop you can think of is represented here, from Athlete's World Superstore to Chapters, to Gap and HMV, and Payless Shoesource to the Sony Store – you could buy everything you could possibly need here!
Shopping on Robson Street
Robson Street is Vancouver's equivalent to London's Oxford Street and features many stores, though mainly of the clothing variety. Unfortunately, like Oxford Street, Robson Street is usually very packed with both Vancouverites and visitors looking to increase their wardrobes, but visitors from the USA or overseas will find that shopping in Canada is not the bargain it once was as the Canadian dollar has got stronger. Still, when compared to prices in countries like the UK, buying the latest fashion wear here will probably still seem like a snip!
Where?
The main core of stores on Robson Street are located between Burrard Street and Jervis Street.
What?
You'll find all sorts of stores here, though the main focus is on fashion clothing, shoes and jewelry. From A/X Armani Exchange to Zara Men's and Zara Women!
When?
During the day Robson Street is packed full of people browsing the stores and enjoying a coffee in one of the many coffeehouses based on Robson Street. By night, Robson Street is still a hive of activity with buskers and performers entertaining passers-by, as you head to one of Vancouver's great restaurants.
Visit the Robson Street Business Association website for further information on all the stores and other services you'll find here.
Shopping in Yaletown
Yaletown is the posh end of Vancouver and this is immediately apparent in the type of stores you'll find here – high end, boutique, designer stores where chihuahua's and Mini Coopers are the fashion accessories for the young and the beautiful!
As you might imagine, shopping here is generally expensive but even if Yaletown shopping is out of your budget, this is still a great neighborhood to come and window shop and enjoy a coffee or two whilst you watch how the other half lives! Yaletown has a nice ambiance about it, from the old converted brick warehouses to the art galleries, and you can buy a good selection of just about everything here.
Shopping in Granville Island
Shopping in Granville Island is a little more affordable for the masses, you'll be pleased to hear! Though with so many great little stores you may find you can't resist spending a lot of money anyway!
You'll find a large selection of studios here where artists are working to produce their works and using a store front to sell them. Items such as hand-made jewelry, pottery, paintings, carvings and more, feature highly. There are also more generalized stores here too and of course the popular Granville Island Public Market which you could easily spend several hours in on its own!
When you've browsed as many shops as you can, Granville Island is a great place to sit and have a drink or lunch. Many places are overlooking the water so you can admire the views and listen to the buskers and other performers entertain you.
To find out more about the opportunities for shopping in Granville Island, as well as all the other attractions you can enjoy here, visit the Granville Island website.
Shopping at Lonsdale Quay Market & Shops
Lonsdale Quay is situated on the North Shore of Vancouver and is where the SeaBus docks when you travel over from Downtown Vancouver, though this isn't all that Lonsdale Quay is good for – there is also an excellent market and shops here too.
This part of North Vancouver was built for the Expo '86 and the large waterfront building is now home to Vancouver's second best market (after Granville Island Public Market) and also some great stores too.  You'll find specialty foods, gift shops, craft shops, baked goods, fresh food, fashion and accessories, kids stuff, health and beauty and also an international food court where you can sit and enjoy lunch or dinner.
When you've finished indoors there is also a great boardwalk at Lonsdale Quay where you can sit in the sun and watch the activity across Vancouver Harbour, or enjoy one of the many things going on around you.
For further information about the market and shops and everything else you can do here, visit the Lonsdale Quay Market and Shops website.