How to find accommodation when coming to study in Vancouver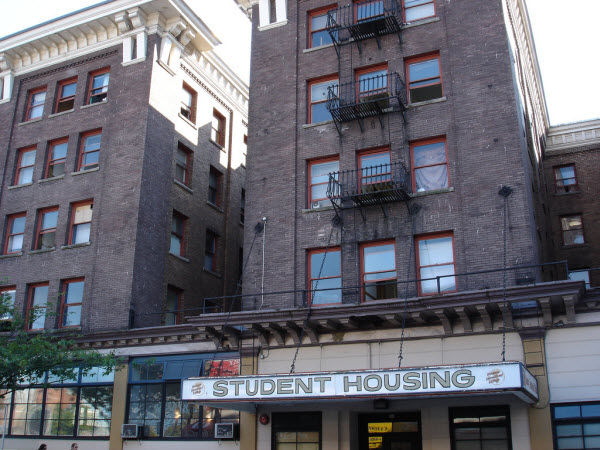 Deciding to study abroad can be one of the most important decisions you make; at times, even greater that selecting what you will be studying. Your attitudes and entire take on life changes and you are now able to see things from a 'global perspective', making you truly part of the new and emerging international student body that is dominating the world today.
Vancouver is one city that offers its students the best in education and lifestyle. Once you've made a decision to come here and selected the university or study course of your choice, the next major step is to decide on accommodation. You have a number of options available to you and the following are some of the ways you can find lodgings that suit you best.
Staying on Campus
A lot of universities and colleges will offer students the chance to stay on campus. On-campus hostels are a great and safe way to meet and interact with other students from all over the world and get involved in the many programs and activities on offer. The campuses usually have private or shared dormitory rooms and cooking or dining facilities. Some even offer one-two bedroom accommodation for students with families. Most will offer telephone and Internet facilities, laundry and parking.
Most of the larger universities or colleges like the SFU (Simon Fraser University) or UBC (University of British Columbia) offer campus accommodation for both single students and students with families. Visit their websites here and here to learn more about on-campus accommodation. Vancouver English College (VEC) also has its own link. Most universities will also be able to guide you in terms of where to look should you need assistance with accommodation.
Living off campus
If you prefer to live off campus, you also have a wide variety of choices to select from. Again, contacting your college or university is your best bet as they will be happy to guide you to their on-campus bulletin board links, or to links that they recommend for their students. SFU for example, offers its students this link to get started with this website.
However, doing an extra 'search and find' is also a good idea and the following are some options you can start with. Most campus bulletin boards are free to browse through and you will pick up a lot of additional information as well, such as which place is closet to your school campus, what is the average rent charged in various locations, what should you look for before signing a lease etc. If you prefer speaking to someone, you could call Off-Campus Housing 101 on 800-862-9874, which offers a free service for students, or visit their site.
Other sites to visit include:
Renting and sharing an apartment
Sharing a rented apartment with friends is a popular option. A lot of students feel comfortable residing with students from the same country. Renting an apartment is fairly easy and if you rent outside of the downtown area, it's very affordable to most students. Public transportation is excellent in Vancouver and with the buses, trolleybuses, sky train and seabus, you can easily make your way to your campus no matter your location.
You can visit any of the following sites to get you started
You can also go through the daily newspapers (available online).
And finally, you may get lucky if you ask around. Students who have been in your position are a great source of information, and they may also know of vacancies and rentals that are available.
Always remember before signing any lease to read it very carefully. If possible and you are in Vancouver already, then try and visit the apartment and check to see that it's in a safe neighbourhood. You can also see that all equipment included works well. Check on their pets and smoking policies and ask about the neighbours and traffic.
Homestay Options
These are very popular amongst foreign students coming to study in Vancouver. Most are privately owned and operated by Canadian families living throughout the lower mainland. Depending on the homestay, in addition to room and board, they may also offer you some or all of the following:
The option or private or shared rooms
TV, computer and internet access
Laundry facilities
Home cooked meals and the use of the kitchen
Private or shared bathrooms
Assistance with learning English
Airport pick up and drop off
Assistance with transportation, banking, immigration etc.
A warm and friendly atmosphere in which the student can feel comfortable and at home in.
Most homestays are between $650-$750 per month, depending on what's offered and the location of the homestay. You can visit Edvisors.com to learn more about homestay and select a suitable one for you.
If you are going to be studying at SFU, then their college body, Fraser International College (FIC) recommends the following http://www.fciplacement.com/ and http://www.vancouvercentralhomestay.com/. Both offer homestay placement near their campuses.
If you are coming to learn English to Vancouver, then the ESL institutes recommend this link.
Other great links for homestay information and to book a space are:
To get an idea of what a typical homestay application form may look like, please visit this page.
Most applications will require you to fill out a similar form giving them details of your preference, in order to better place you.
In addition, visiting this website will take you to a Frequently Asked Questions (FAQ's) section. It's recommended you visit this to get a better idea of what a homestay really is and what you can do to make your selection the perfect one for you.
Vancouver encourages students from all over the world to come and study here and with plenty of  safe and nurturing environments to choose from, you will definitely find the accommodation of your choice!