Things to see in Victoria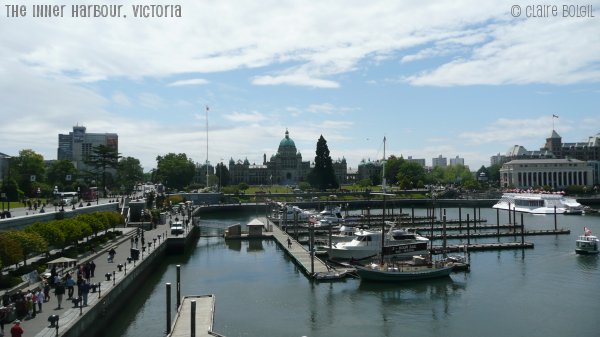 Like Vancouver, Victoria has many things to see and do. We could write a whole website on Victoria and the rest of Vancouver Island as there are so many attractions here, but we've tried to condense some of the best of British Columbia's capital city into several pages for those who may wish to spend a day or so in this attractive city…
Abkhazi Garden
The Abkhazi Garden is a beautiful garden which started life back in 1946 when Prince and Princess Abkhazi bought the one acre property and started to develop the gardens. For over 40 years they lovingly worked on them until their deaths, and in 2000 The Land Conservancy bought the property to save it from destruction.
These beautiful gardens are now open to the public and feature mature rhododendrons, native Garry Oaks, Japanese maples and also many other smaller plants and flowers. Visitors can enjoy tours of the gardens, followed by a meal in the former Abkhazi sitting room which is now home to the Abkhazi Garden Restaurant, serving lunch and afternoon tea.
For further information on the Abkhazi Gardens and Restaurant including opening hours, admission prices, lunch time menu and more, please visit the Abkhazi Gardens Website.
Art Gallery of Greater Victoria
The Art Gallery of Greater Victoria features permanent collections, such as the best collection of art in the country from Canada's favorite artist, Emily Carr, as well as over 15,000 objets d'art from Europe, Asia and North America, though with the emphasis of the collection being on Canada itself.
The Gallery always features temporary exhibitions too which represent a variety of medium and styles and change throughout the year. Examples of recent temporary exhibitions include Warhol: Larger Than Life, Religious Arts of Asia and Chinese Folk Art.
Visitors can purchase souvenirs of their visit and gifts afterwards in the Art Gallery of Greater Victoria Gallery Shop. You can also get a heads-up of the current exhibitions before your visit, by going to the Art Gallery of Greater Victoria Website.
The Bay Centre
The Bay Centre is a large and popular shopping center (mall) in Downtown Victoria which offers a number of stores and places to eat and drink. Find out more about the Bay Centre on our Shopping in Victoria page.
BC Casinos
View Royal – Great Canadian Casinos' View Royal Casino has just enjoyed a major face-lift and offers visitors 35,000 square feet of gaming floor with over 400 slot machines and all the favorite table games too. There's also a fully licensed restaurant here or a deli for lighter bites, plus free tea, coffee and soft drinks for players on the gaming floor. View Royal is a distance from Downtown Victoria, though shuttle buses are offered for visitors wishing to travel from the major Downtown hotels. Visit the View Royal Casino website for further information.
Butchart Gardens
The world famous Butchart Gardens offer visitors 55 acres (22 hectares) of wonderful gardens within this National Historic Site of Canada and is one of British Columbia's top visitor attractions.
Here you enjoy something different each season of the year, from the heated greenhouse displays to the spectacular flowering borders there are always a huge plethora of colors to experience at Butchart Gardens!
Summer is the busiest time of year at Butchart Gardens, though if you can brave the crowds you'll be rewarded with a fantastic fireworks display every Saturday evening during the summer season. Butchart Gardens is also the ideal place to enjoy a tasty lunch or dinner. There are two restaurants here as well as the Coffee Shop for lighter snacks.
Butchart Gardens are located in Brentwood Bay in Greater Victoria, 14 miles (23km) north of Downtown Victoria and can be reached by transit on bus route # 75.
For further information on all the attractions at Butchart Gardens as well as detailed directions for how to get to the gardens, please visit the Butchart Gardens Website.
Centre of the Universe
The Centre of the Universe is the name given to the interpretive center which is attached to Victoria's Dominion Astrophysical Observatory located on Observatory Hill in the Saanich area, north of the city. The Centre of the Universe is an interesting visit for both adults and children to learn about the stars, constellations and more. The observatory itself is also open to the public at certain times during the day and evening and there are also special events throughout the year at which time the observatory is open until later.
Visit the National Research Council of Canada website for further information on the Centre of the Universe and the Dominion Astrophysical Observatory.
Craigdarroch Castle
Craigdarroch Castle is one of Victoria's most famous landmarks! Built in 1890 for the coal baron, Robert Dunsmuir, the castle is from the Victorian period and resembles many of the castles you still find in Scotland to this day. In fact, Dunsmuir was an immigrant from Scotland who made his fortune in Canada and the name 'Craigdarroch' is a Gaelic word which means 'rocky, oak place'.
Today the castle is being restored to its original glory and is open for visitors to tour around and experience what life would have been like in Victorian times. The 39 rooms are spread over 4 ½ stories and are accessed via a total of 87 stairs. At the top of Craigdarroch Castle you're rewarded with some excellent views of Victoria, the Olympic Mountains and the Strait of Juan de Fuca from the castle's tower. Tours are self guided so you can take as little or as long as you like.
Craigdarroch Castle also features a Museum Gift Shop where you can buy a selection of gifts including replica Victorian era choices, plus soft drinks and sweets are sold here too. Visit the Craigdarroch Castle website for further information on the castle as well as opening hours, admission prices and directions.
Craigflower Manor and School House
Craigflower Manor and School House are both National Historic Sites and visitor attractions which are situated about 10 minutes drive from Downtown Victoria.
The Georgian Manor House was built as part of a farm community in the 1850's by the Hudson's Bay Company and the entire community consisted at one point of over 20 dwellings. The School House was built in 1855, and is the oldest school house in British Columbia. The school had 26 students when it first opened.
After the original family, the McKenzie's, moved from the manor house it was rented to tenants but the farm was not successful and the community diminished. The School House was closed in 1911 and re-opened as a museum in 1931. Since 1967 both sites have been listed as National Historic Sites and are now open to the public to visit between May and September, or at other times by special appointment.
Visit The Land Conservancy Craigflower website for further information on what you can see during a visit to Craigflower Manor and School House, as well as opening hours and admission prices. Please note that although both sites are opposite each other they have completely different addresses!
Fort Rodd Hill
Fort Rodd Hill is another of Victoria's National Historic Sites and was built in the 1890's so that Canada and Britain were able to defend Victoria and the Esquimalt Naval Base from attack.
The National Historic Site of Ford Rodd Hill is open to the public to inform, entertain and educate about this important period in Canada's history. Visitors get to tour this interesting facility, including underground storage magazines, gun batteries and command posts. After a tour, Fort Rodd Hill's coastal setting makes this an ideal spot to enjoy a picnic and spot some wildlife and do some bird watching.
Fort Rodd Hill and the neighboring Fisgeard Lighthouse National Historic Site are situated 8.5 miles (14km) west of Downtown Victoria and are easily accessible by car. Visit the Parks Canada Fort Rodd Hill website for further information about opening hours, admission prices and more.
Gatsby Mansion Inn and Restaurant
The Gatsby Mansion Inn and Restaurant is not a visitor attraction in the same sense as the others in this list, but it's such a great example of a Victorian era property that it makes for a great place to visit anyway and may be on your short list for somewhere to stay whilst in Victoria!
The main mansion building, which was named after the famous F. Scott Fitzgerald novel, was built by William Joseph in the Queen Anne style in 1897. This beautiful building is now a lovely boutique hotel and offers bed and breakfast accommodation. Also on the grounds are two older buildings – the Judges House, which was built in 1877, also contains suites and the Middle House, built in 1872, was the original cottage on the property and now houses a couple of suites as well as an ice cream parlor, gift shop and currency exchange. In addition there are two restaurants at the Gatsby Mansion which are open to all for breakfast, lunch and dinner, or you can pop in for a Traditional English Afternoon Tea! Visit the Gatsby Mansion website for further information.
Maritime Museum of British Columbia
The Maritime Museum of BC gives visitors a fascinating look at the important maritime history in this Pacific region of Canada. There are many exhibits here as well as three vessels which all have amazing stories attached to them – both the Tilikum and Trekker sailed out of Victoria and achieved around the world voyages, whilst the sailing yacht Dorothy is the oldest on the Pacific Northwest Coast. You can see all three vessels at the Maritime Museum of British Columbia.
The Museum is in central Victoria which makes it easily accessible on foot from the rest of Downtown Victoria.
Visit the Maritime Museum of BC website for further information on all of the exhibits you can see here, as well as opening hours, admission prices and more.
Pacific Undersea Gardens
Situated right in the middle of everything in Victoria's Inner Harbour is the Pacific Undersea Gardens; a fun, underwater world which allows you to get up close and personal with the local marine life!
There are more than 5,000 animals within the aquariums, from a variety of different species which can be easily viewed, or you can get even closer to some in the tidal pond where visitors of all ages are invited to touch some of the sea life here. There is also a very unique theatre here where visitors can enjoy a 20 minute dive show, watching and communicating with a diver who encounters all sorts of marine life.
The Pacific Undersea Gardens also has a Treasure Cove Gift Shop where you can buy some great gifts for yourself or friends and family, and snacks are also on sale here too. The Pacific Undersea Gardens website has full details of what you can see and do here, plus admission prices and opening hours.