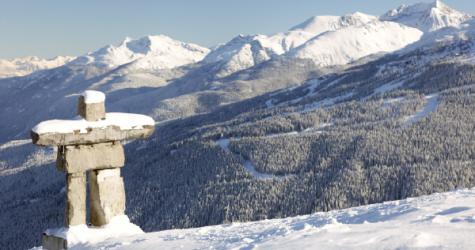 The beautiful city of Vancouver, in Canada's British Columbia, was chosen on July 2, 2003 to be the host for the 2010 Winter Olympics; an honour which it will share with the world-famous ski resort, Whistler.
The 2010 Winter Olympics are officially known as the XXI Olympic Winter Games, and Vancouver follows the 2006 Winter Olympics which were held in Turin, Italy.
These will be the third Olympics hosted by Canada, and the first to be held in British Columbia, Canada's western-most province. Calgary, in Alberta, was home to the 1988 Winter Olympics, whilst Montreal, in Quebec, was home to the 1976 Summer Olympics.
The 2010 Vancouver Olympics is going to include a number of firsts – the first Winter Olympics to have some events held at sea level; the first Winter Olympics to be held by the sea; the first Winter Olympics Opening Ceremony to be held indoors; and Vancouver will also be the warmest city ever to host the Winter Olympics too!
With Vancouver being a city with such a mild climate, there is some concern as to the feasibility of hosting a winter Olympics, though as you'll read below this shouldn't be a problem considering which events are being held in Vancouver itself!
The Vancouver Olympics will feature 15 sporting events – categorized as ice sports, Nordic and alpine, skiing and snowboarding.
The opening and closing ceremonies, as well as most of the events categorized as ice sports, will be held in Vancouver and in the municipality of Richmond (a suburb in Greater Vancouver). Ice Sports includes the following events: Ice Hockey, Figure Skating, Speed Skating, Short Track Speed Skating and Curling, plus Bobsled, Luge and Skeleton which will be held at Whistler Blackcomb.
Nordic events include: Biathlon, Nordic Combined, Ski Jumping and Cross Country Skiing and these will all be held just west of Whistler in the Callaghan Valley.
All of the alpine skiing events will be held at Whistler Mountain Creekside, whilst Cypress Mountain, located in Cypress Provincial Park on Vancouver's North Shore, will host the freestyle skiing and all snowboard events. Also, a more recently added event, called Skicross, will be held at Cypress Mountain too.
The Vancouver 2010 Olympic Torch Relay is said to be one of the longest ever for the Winter Olympics. When the flame reaches Canada it's going to be transported by various means of popular Canadian transportation, so this will include dog sled, snowmobile, horse and on foot, amongst others!
One thing is for sure, it looks as though the 2010 Vancouver Winter Olympics are going to be an Olympics which will be remembered for years to come!