Getting to Vancouver by Train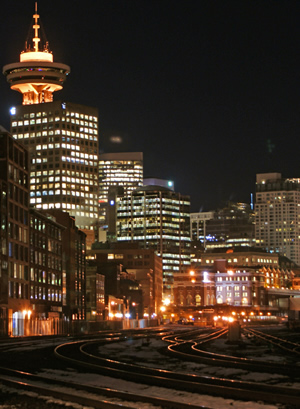 Whichever direction you're coming from, arriving in Vancouver by train probably gives you the best opportunity to see some amazing scenery. There are four options when it comes to arriving in Vancouver by train…
ViaRail
ViaRail is the national passenger railroad of Canada, so as would be expected they offer routes across the country. If you have time to spend before reaching Vancouver you could fly in to a different Canadian city, then take the ViaRail for an unforgettable train ride!
The Toronto to Vancouver route for example is very popular, but remember that Canada is a vast country so the journey is not a fast one! Toronto to Vancouver takes three days! The Jasper to Vancouver route is also a favorite and this alone takes 16.5 hours!
You can also use ViaRail to get to Vancouver from the other major cities in Canada, including Edmonton, Winnipeg, Montreal and Halifax.
Visit the ViaRail website for all the information on routes, fares and schedules.
Amtrak
The United States equivalent to ViaRail is Amtrak and one of their most popular routes is Seattle to Vancouver. There is one round-trip train every day, departing from Seattle's Amtrak station at 7.45am and arriving at Vancouver's Pacific Central Station (view map) at 11.40am. If you need to return to Seattle you can do so, departing 6.00pm from Vancouver.
Amtrak's website has further information on fares for this journey.
Rocky Mountaineer
The Rocky Mountaineer trains are amongst the most famous in the world and are an excellent choice if you want to enjoy the scenery en-route. The Rocky Mountaineer reaches Vancouver via Calgary, Banff and Jasper, and operates between about mid-April to mid-October.
Alternatively, you can use the newer route from Whistler to Vancouver on the Whistler Mountaineer which makes the journey every day from May to mid-October.
The benefit with the Rocky Mountaineer trains is that because they are specifically tourist trains they only travel during daylight hours. This means you get to see absolutely everything along the way and don't miss anything at night time when you disembark the train and stay a night in a hotel.
Visit the Rocky Mountaineer website for details of all their train routes.
West Coast Express
The West Coast Express is a commuter service but may still be of use to visitors trying to reach Vancouver. It operates on weekdays and during peak periods between Mission and Vancouver's Waterfront, going via Port Haney, Maple Meadows, Pitt Meadows, Port Coquitlam, Coquitlam and Port Moody.
However, West Coast Express has recently introduced a TrainBus weekend service. This basically calls at the stations which the train stops at during the week, but you make the journey on a bus instead of a train.
The Waterfront Terminal in Vancouver is situated at the same location as the Sea Bus and SkyTrain terminal (view map), which is near Canada Place and the Cruise Ship dock.
Visit the West Coast Express website for full schedule details.