City Center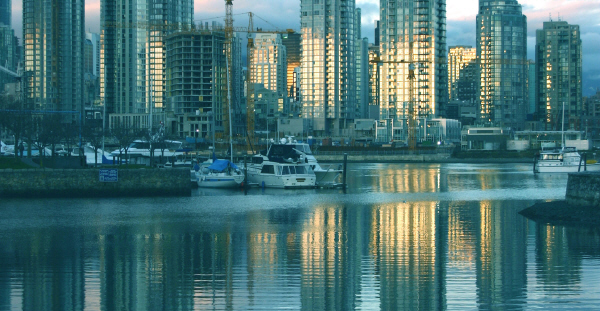 Where is the City Center?
The City Center, which is also sometimes referred to as the Central Business District (CBD), occupies a strip of land within downtown Vancouver which stretches from Burrard Inlet in the north, to False Creek in the south, and from Burrard Street in the west to Chinatown and Gastown in the east.
City Center Attractions
Being the heart of the business and commercial center of Vancouver you may mistakenly think that the City Center would be an area you might want to avoid, but on the contrary there are actually many attractions here which tourists will enjoy. In addition, the large majority of the downtown hotels are situated within this area, as well as many excellent restaurants, bars, shops and entertainment facilities.
City Center Highlights
Canada Place & CN IMAX Theatre
Canada Place, with its five architectural sails, is one of Vancouver's most prominent landmarks and if you're sailing off on an Alaskan cruise, you'll probably be departing from here! Read more about what you can do at Canada Place and the CN IMAX Theatre here.
Vancouver Lookout
For great views of the city and Vancouver's surrounding natural beauty, head up the Vancouver Lookout where you get 360 degree views. Full details of the Vancouver Lookout can be found here.
Vancouver Art Gallery
The vibrant and quite contemporary Vancouver Art Gallery is a good choice for a few hours visit whether you're an art buff or not.Read more about the Vancouver Art Gallery and its exhibitions here.
Vancouver Public Library
It may not be an obvious choice for a tourist attraction, but Vancouver Public Library is actually quite an impressive place! With its Roman Colosseum-esque architecture and 1.2 million books, bibliophiles will have a field day here, or you could just enjoy the cafés in the large glass atrium as you people-watch.
Other Places of Interest in the city center
Contemporary Art Gallery
Modern art, though particularly photography, features in this independent gallery with free admission.
GM Place
GM Place is Vancouver's newer and smaller stadium is the place to catch NHL games, rock concerts and behind-the-scenes tours and will also be the venue used for the ice hockey in the 2010 Vancouver Winter Olympics.
Christ Church Cathedral
This is the largest and most impressive gothic style cathedral in Vancouver, looking oddly placed amongst all the glass high-rise buildings surrounding it. Completed in 1895, the highlight here is the 32 stained glass windows which you can view on a self guided tour.
Pendulum Gallery
Further opportunity to experience art in frequently changing exhibitions can be found in the Pendulum Gallery in the large HSBC Bank Building. Entry is free to the huge atrium, and even if you're not interested in the art you should visit to see the 27 meter long pendulum which will swing above you!