Gibsons Landing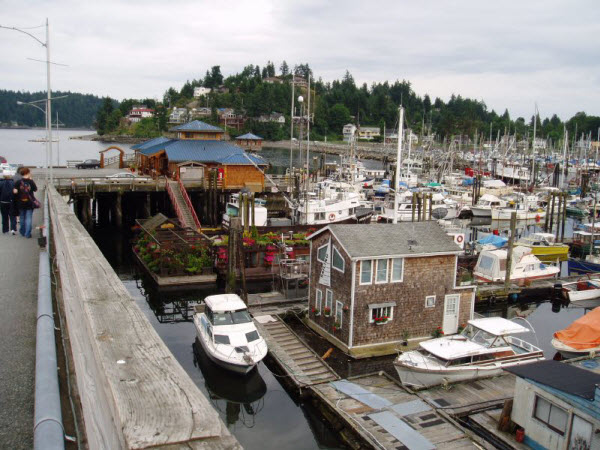 Where is Gibsons Landing?
Gibsons Landing is a picturesque coastal village on the shores of Howe Sound on an area known as the Sunshine Coast.
View Larger Map
Gibsons Landing, like the rest of the Sunshine Coast, is not directly accessible by road although this doesn't mean you can't drive there! From Downtown Vancouver the journey takes about 90 minutes and this includes the ferry boat crossing from Horseshoe Bay over to Langdale, from Langdale it's a short drive south 2.5 miles (4km).
If you don't have your own transport you can still get to Gibsons Landing – Malaspina Coach Lines operates a service from Vancouver Airport and Downtown Vancouver to the Sunshine Coast. Visit the Malaspina Coach Lines website for further information.
Gibsons Landing Attractions
Gibsons Landing is most appealing for its scenic location as a picturesque seaside village with its stunning views of the Coastal Mountains and Howe Sound. It's the kind of place which visitors come to and fall in love with for its relaxed and peaceful way of life and the opportunity to do as much or as little as you please!
Gibsons Landing has bed and breakfasts as well as motels for visitors to stay in, in addition to camping and RV sites very close by. There's a tasty selection of restaurants in the village where seafood often features highly on the menu!
Gibsons Landing Highlights
Art Galleries
With such a stunning environment it's no surprise that a good many artists live in and around Gibsons Landing. Visitors can enjoy a range of small art galleries in the village whether you're just looking and admiring or in the market for buying some art for your home.
Guided Art & Sightseeing Excursions
To see some of the best art you may like to join one of the many tours offered by Destination Sunshine Coast. As well as art tours, there are a variety of tours including walking tours and other small group tours around Gibsons Landing and the surrounding areas. Visit the Destination Sunshine Coast website for details of all the tours they offer.
Sunshine Coast Museum and Archives
The Sunshine Coast Museum and Archives is the regional museum for the Sunshine Coast which shows visitors of all ages the 'historical connection between land, sea and human experience'. There are two floors of exhibits as well as a gift shop where you can buy books on the local area, pictures, clothing and gift items. Visit the Sunshine Coast Museum website for information on opening hours and admission prices.
Sunshine Coast Museum and Archives

716 Winn Road
Vancouver, B.C.
604-886-8232
Gibsons Landing Historic Harbour
The historic harbor here at Gibsons Landing is still a busy little harbor today and with the marina this makes for a great place to dock your boat for the night. Take a walk around the harbor area and enjoy the majestic and picture postcard scenery all around.
Mollys Reach Restaurant
Fans of the CBC's long-running television series, The Beachcombers, will be familiar with Mollys Reach Restaurant as this is where the series was filmed for nearly 20 years. Even if you're not familiar with the series, this is an excellent location to enjoy breakfast, lunch or dinner overlooking the harbor!
Mollys Reach Restaurant

647 School Road
Vancouver, B.C.
604-886-9710
Gibsons Harbour Ferry Tours
A great way to see Gibsons Landing and the surrounding scenery is from the water. You can take a one hour cruise of the beautiful Howe Sound with Gibsons Harbour Ferries.
To find out more about all the things you can see and do in Gibsons Landing, please visit the Gibsons Landing Village Website.