The Rocky Mountains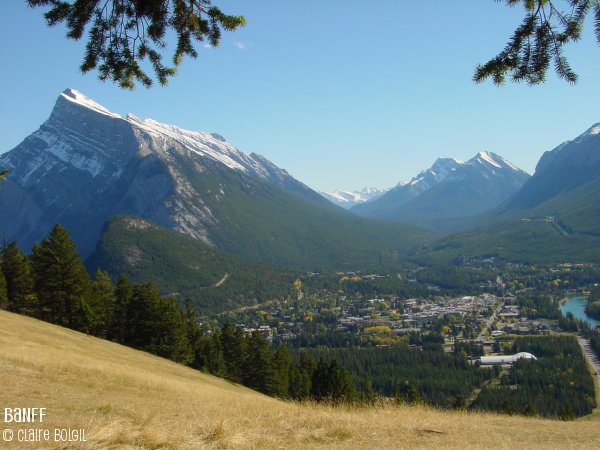 Where are the Rocky Mountains?
The Canadian Rocky Mountains are approximately 500 miles (800km) east of Vancouver (via Jasper) so are obviously not reachable for just a day trip! However, the Rockies do make an excellent excursion from Vancouver if you have the time to spare – really to be able to experience the Rockies properly you should give yourself a week, though you could do it faster on a tight schedule!
Alternative modes of transport include the famous Rocky Mountaineer, which you can find out about on the Rocky Mountaineer website.
Rocky Mountains Attractions
The Canadian Rocky Mountains are famous the world over for their stunning beauty – mountain peaks, forests and the most amazingly colored lakes and rivers you're ever likely to see!
Unsurprisingly, all this is protected under the guise of several National Parks which cover the Rockies as well as some of the surrounding mountain ranges also. At the northern end of the Canadian Rocky Mountains is Jasper National Park and to the southern end is Banff National Park. In the south west, Banff is bounded by Yoho National Park and Kootenay National Park. In addition to this there are many Provincial Parks, Wilderness Areas and National Historic Sites in the Rockies area too, not to mention the attractive towns of Jasper, Lake Louise and Banff.
Below you'll find a suggested circular tour which takes in the best of the Rockies. We've given mileages between places, but leave the actual itinerary up to you! Please note that mileages may not be exact but are usually rounded to the nearest 5 or 10.
Rocky Mountains Circular Tour
Vancouver to Kamloops
220 miles (350km)
It's too far to sensibly get from Vancouver to the Rocky Mountains in one day, so a great city to stop in for the night is Kamloops as this is about half way there.
Driving Directions:
From Vancouver take Highway 1 (the Trans Canada) to Hope.
At Hope you have the choice of going north via Lytton and Cache Creek, or going north-east via Merritt. Either way is scenic, but we recommend the Merritt route, even though there is a $10 toll for using this road!
Stay on the main freeway at Hope as this becomes Highway 5 (known as the Coquihalla).
Continue past Merritt on Highway 5 and this takes you directly in to Kamloops.
There are a great many motels and hotels in Kamloops or there's a variety of camping available at Provincial Parks around the Kamloops area. Visit the Tourism Kamloops website for further information on the city of Kamloops.
Kamloops to Jasper
280 miles (445km)
From Kamloops you follow Highway 5. This is a nice scenic stretch of road with numerous places to stop along the way for a rest break or for a picnic.
Driving Directions:
On leaving Kamloops you continue on Highway 5 (the Yellowhead Highway) North.
Pass through the towns of Barriere, Clearwater and Valemount before reaching the junction with Highway 16
Turn right (east) onto Highway 16 towards Jasper
You'll pass through Mount Robson Provincial Park before you reach the town of Jasper, at which point you have arrived in the Rocky Mountains!
Be advised that Jasper is only a small town and the amount of overnight accommodation here is limited. If you're coming in the peak season you're advised to reserve a room, or campsite, well in advance of your trip. Visit the Jasper Tourism website for further information.
Jasper
Spend a day in the Jasper area as there is some fantastic scenery here. Head out to the beautiful Maligne Lake, stopping at Medicine Lake along the way and also visit the Jasper Park Information Centre and National Historic Site. Buy yourself a National Park pass as this is required in order to enjoy the Park area.
Jasper to Lake Louise
140 miles (225km)
As you leave Jasper on Highway 93 you'll be driving along a stretch of road known as the Icefields Parkway. You'll get glimpses of glaciers along the way, but the main attraction is the huge Columbia Icefield. Visit the Athabasca Glacier Icefield Centre where you can find out about the icefields and have a bite to eat, though the highlight is a ride out onto the glacier in one of the huge Ice Explorer vehicles! Find out more on the Columbia Icefield website.
As you continue south along Highway 93 you'll get to Saskatchewan River Crossing. This is the only place between Jasper and Lake Louise that there are services, such as gas and lodging, so you could stay here although accommodation is limited so would again need to be reserved in advance. The alternative is to continue another 47 miles (75km) to Lake Louise.
Lake Louise
The highlight of Lake Louise is of course the lake! Lake Louise is the most beautiful color as a result of the rock flour which comes into the lake from the surrounding melting glaciers. At one end of the lake is the famous Chateau Lake Louise where you can choose to stay for a night or two if you're not on a budget!
Staying a night in Lake Louise if you didn't stop off at Saskatchewan River Crossing is probably a wise move, as the next opportunity is not until Banff.  Check the Banff Lake Louise Tourism website for details of places to stay.
A great highlight of a visit to Lake Louise is a trip in the Lake Louise sightseeing gondola which is open year round.
Lake Louise to Banff
40 miles (63km)
Before you leave Lake Louise take a side trip to Moraine Lake, another beautifully colored Rockies lake. Coming out of Lake Louise you have two choices for the route – either Highway 1 or Highway 1A – both are exactly the same distance but 1A was built as an alternative route for tourists to use who want to amble along rather than speed down the main highway. Choose 1A for a more relaxed drive with increased opportunity to stop off and admire the amazing Rocky Mountain scenery which is all around you.
Spend an hour or two at Johnston Canyon where you can walk alongside the waterfalls, or hike up a little further to the 'Ink Pots' where you'll see some very colorful spring-fed ponds!
Banff
The town of Banff is the largest community within the National Park and is a place where you could easily spend several days to a week enjoying the town and the surrounding natural beauty. The town itself is nice, though obviously very tourist-oriented so may be a little too commercial for some tastes, but there are many places to stay here, or you can choose to stay in the town of Canmore which is a little further south and just outside the National Park borders.
Highlights in the Banff area include the world-famous Banff Springs Hotel, opened at the height of the Canadian Pacific Railway in 1888 and re-built in the 1920's after a fire and of course there is great scenery all around – Mount Rundle is one of the most recognizable mountains in this part of the Rockies, though there's also Sulphur Mountain, lakes like Lake Minnewanka and Two Jack Lake, plus many outdoor recreation opportunities everywhere you look!
Banff to Radium Hot Springs
80 miles (128km)
You need to travel back on yourself slightly from Banff, up Highway 1 until you reach Highway 93. Take Highway 93 which will take you through Kootenay National Park to Radium Hot Springs. If you fancy a relaxing swim, stop off at the Hot Springs complex where you can enjoy the hot spring pool at a temperature of around 104F (39C) or the cooler swimming pool at 84F (29C).
In the nearby village of Radium Hot Springs you'll find a good range of lodgings and places to eat. Visit the Radium Hot Springs website for further information.
Radium Hot Springs to Golden
66 miles (105km)
At Radium Hot Springs you go north on Highway 95 to Golden. Golden is another town which has a number of amenities and places to stay so may be a good stop off point. Visit Tourism Golden website for further information.
Golden to Revelstoke
94 miles (150km)
Leave Golden by heading north on Highway 1 which takes you through both Glacier National Park and Mount Revelstoke National Park on your way to the city of Revelstoke. Again you will see some stunning scenery along the way and have many opportunities to stop and take it all in. The Revelstoke Website Information Portal has information on where you can stay in the area.
Revelstoke to Kamloops
160 miles (250km)
Continue on Highway 1 which, after some driving, will bring you back into Kamloops! You'll pass through a number of both large and small communities along the way should you decide to stop for the night before reaching Kamloops – towns like Salmon Arm and Chase would be your best bets.
Kamloops to Vancouver
270 miles (430km) via Highway 1
Leaving Kamloops you have the same two choices which you had at the beginning of your tour. If you came up via Highway 5, why not take Highway 1 back, or vice versa?! The Highway 1 route is longer (as you'll see from the mileages above) so it really depends on what time you have available.