Public Holidays, Special Events and Festivals in Vancouver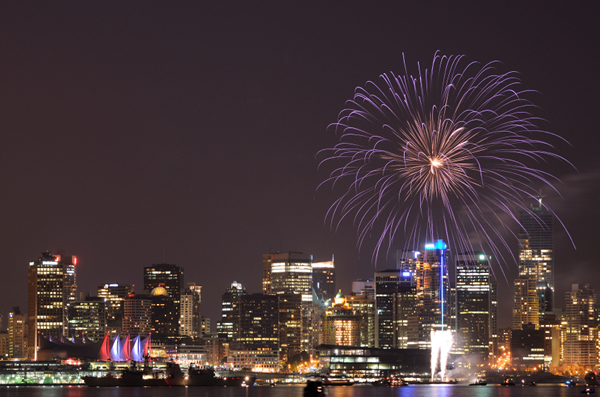 Public Holidays
There are a number of public holidays taken in Vancouver and the rest of British Columbia. On national public holidays you'll find that government offices (which includes post offices) are closed, in addition to schools and banks. Transport services and some visitor attractions will be operating on Sunday schedules, so there may be fewer trains and buses and places may be open shorter hours.
Also be aware that Canadians are very fond of getting out on long weekends and this has two implications – first the roads will be a lot busier, usually from about Thursday onwards, and second, you may have trouble finding accommodation unless you've pre-booked.
These are the holidays celebrated in Vancouver:
| | |
| --- | --- |
| New Year's Day | January 1 |
| Good Friday & Easter Sunday | Sometime between late March to mid-April |
| Victoria Day | 3rd Monday in May |
| Canada Day | July 1 |
| BC Day | 1st Monday in August |
| Thanksgiving | 2nd Monday in October – note this is different to the US |
| Remembrance Day | November 11 |
| Christmas Day | December 25 |
| Boxing Day | December 26 |
When a holiday falls on the weekend, the norm is to observe it on the following Monday.
Special Events & Festivals in Vancouver
Like any city, Vancouver has its share of special events throughout the year, though here, more so than in some cities, these events are very diverse – definitely a reflection on Vancouver's broad mix of cultures and ethnic backgrounds.
Chinese New Year
With the second largest Chinatown in North America, it's no surprise that the Chinese New Year is a very popular occasion here in Vancouver, both with the Chinese and the general population too. The actual date varies as it's determined by the lunar calendar but it falls between late January and early February. The festivities usually last for about 15 days though and include all manner of things from a dragon parade to fireworks, music, exhibits, dancing and great food! See Vancouver Chinatown website for more info.
Alcan Dragon Boat Festival
On a similar theme, the Dragon Boat Festival held on the 3rd weekend in June is a very popular event which involves Dragon Boat races across False Creek. About 2000 competitors from around the world come to compete and there's lots going on in addition to the races too. Visit the Alcan Dragon Boat Festival website for more information.
Vancouver International Jazz Festival
From the 3rd or 4th Friday in June and lasting about ten days you can listen to big name jazz performers playing at various venues around the city. There is also a two day street festival in Gastown and Yaletown. For more information visit the Jazz Vancouver website.
Celebration of Light Fireworks Festival
This is one of Vancouver's most popular festivals, attracting over 1 million visitors every year. It is the biggest fireworks 'competition' in the world and takes place in English Bay over 4 nights at the end of July and beginning of August (dates vary every year).
The fireworks last for about 25 minutes and are accompanied by music which is played by the local radio station, so even if you're not in English Bay you can still hear the music. There are many vantage points around the city including the public beaches, where you can watch for free. For more information visit the Celebration of Light website.
Other festivals and special events in Vancouver
There are many other festivals and special events which take place in Vancouver too. Here is a summary of some of the best:
January
March & April
May
June
July
August
September
October
December