BC Casinos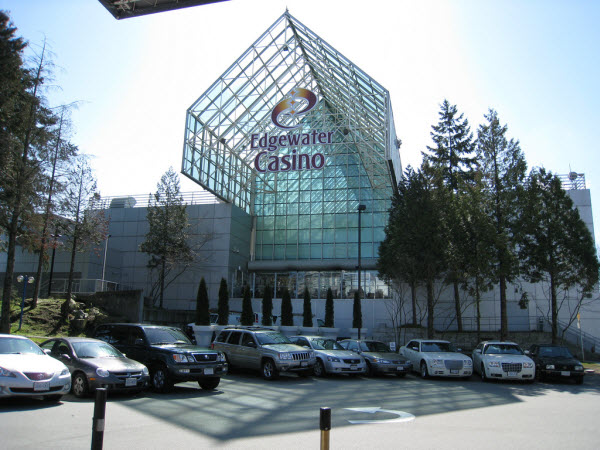 Although Vancouver and British Columbia aren't exactly rated up there with the gambling hotspots of the world, there are still plenty of gambling and gaming opportunities for visitors to enjoy in the area! Below are the details of some of the facilities you could try on your visit or if you're heading over to Victoria and Vancouver Island see our Victoria Attractions BC Casinos page for details of the casinos there.
Vancouver Casinos
Edgewater Casino
Edgewater casino provides over 30,000 square foot of gaming including both tables and over 500 slot machines and is conveniently located at the edge of Downtown Vancouver. In addition to the regular table games there's a poker room and a high limit room. The casino is open 24 hours a day, 7 days a week.
Edgewater casino is fully licensed so you can enjoy your favorite drink on the gaming floor as well as in the Vue Bar and Lounge or at the Splash Bistro. There is ample parking at Edgewater Casino, or for those without a car, make use of the complimentary daily shuttle services.
Visit the Edgewater Casino website for full details of the gaming opportunities here as well as the schedule for the complimentary shuttle buses.
Hastings Park Racecourse
As well as being a top class horse racing destination, Hastings Park Racecourse now also offers gaming opportunities for visitors. The new permanent gaming floor offers over 600 slot machines which use ticket technology rather than coins and is open 7 days a week into the early hours of the morning.
Visit the Hastings Park website for further information about gaming and all other attractions on offer here, including free shuttle services.
Richmond Casinos
River Rock Casino Resort
The River Rock Casino Resort in Richmond is far more than just a casino! There's a luxuriously styled hotel with conference and meeting facilities, tropical swimming pool, 950-seat theatre for all sorts of shows and entertainment and a 144 berth marina! On the casino side there are over 1,000 slot machines as well as tables and a poker room, plus of course there are numerous dining opportunities here.
Being located in Richmond makes the River Rock Casino Resort ideally placed to reach from Vancouver International Airport, which is just 5 minutes away, and Downtown Vancouver is approximately a 20 minute drive.
The River Rock Casino Resort website has lots more information on the casino, the hotel and the entertainment on offer.
Coquitlam Casinos
Boulevard Casino
The Boulevard Casino has an attractive French style and theme reminiscent of some of the great European casinos. There is 80,000 square feet of gaming space here which contains 950 slot machines and all the popular table games too in addition to a poker room and a high limit room.
Boulevard Casino also offers entertainment in its sports bar and theatre, along with several dining opportunities plus the added bonus for players to receive complimentary tea, coffee and soft drinks!
To find out more about what's on offer here, visit the Boulevard Casino website.
Burnaby Casinos
Burnaby Villa Casino
The Burnaby Villa Casino offers 32 gaming tables and 679 slot machines within the 40,000 square feet of gaming floor, all themed like a casino from the popular 1920's complete with art deco architecture! There's a private room for high limit games and a la carte restaurant plus free coffee and soft drinks for players.
Grand Villa Casino
The Burnaby Villa Casino is soon to be replaced with the newer and larger Grand Villa Casino which offers a huge 100,000 square feet of gaming floor with over 1,000 slot machines and more than 50 tables all within a luxurious Italian Villa themed setting. In addition there will be restaurants, two bars and a show lounge for entertainment.
Check the Grand Villa Casino website for updates as to the progress of this new casino.
New Westminster Casinos
Starlight Casino
Starlight Casino in New Westminster offers over 70,000 square feet of gaming with 45 gaming tables and 850 slot machines which is open 24 hours a day, 7 days a week. There is a poker room as well as a private high limits room with exclusive private bar and patio.
Starlight Casino also offers live entertainment and various dining opportunities all set within a plush facility. Visit the Starlight Casino website for lots more info!
Langley Casinos
Cascades Casino
Cascades Casino in Langley is next door to the Coast Hotel and Convention Centre so offers a great place to gamble, plus a great place to stay! The 50,000+ square feet of gaming space provides visitors with 27 tables and 500 slot machines as well as a high limit area and a poker room plus a 420-seat theatre for entertainment. The Glacier Bay is centrally located on the gaming floor, plus there's the Pinnacle Bar and Grill for both drinks and dining.
The Cascades Casino website has full details of the gaming opportunities here, as well as dining and hotel information.