Libraries in Vancouver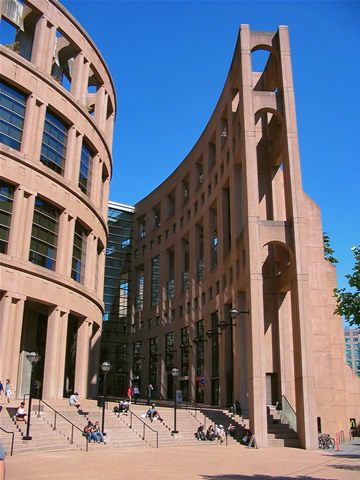 There are a total of 22 Vancouver Public Libraries which are spread across the city. Three of these are in downtown proper, whilst a fourth is just on the edge of downtown. These are:
Joe Fortes Public Library

870 Denman Street
V6G 2L8
Vancouver, B.C.
604-665-3972
Open daily.
10am to 9pm on Monday, Tuesday & Thursday.
10am to 6pm on Wednesday and Friday.
10am to 5pm on Saturday.
1pm to 5pm on Sunday.
Central Branch Public Library

350 West Georgia Street
V6B 6B1
Vancouver, B.C.
604-331-3603
Open daily.
10am to 9pm Monday to Thursday.
10am to 6pm Friday and Saturday.
12pm to 5pm Sunday.
Outreach Branch Public Library

302-345 Robson Street
V6B 6B3
Vancouver, B.C.
604-331-4100
Closed Sunday and Monday.
10am to 5.30pm Tuesday to Thursday.
10am to 5pm Friday and Saturday.
Carnegie Branch Public Library

401 Main Street
V6A 2T7
Vancouver, B.C.
604-665-3010
Open daily.
10am to 10pm Monday to Sunday.
The locations, opening hours and more info for all of the libraries in Vancouver can be seen on the Vancouver Public Library website. Please do double check the above opening hours before making a special journey as times are subject to change.
Internet Use
All Vancouver Public Library (VPL) branches offer wireless internet, and to use this you must have a VPL user card which is needed to login to the network. Non Vancouver residents can ask for a guest access card, which can then be used to login.
If you don't have your own laptop, there are internet access computers, though the number of computers available varies between the libraries. It's often a good idea to reserve a slot in advance, otherwise you could have a long wait during busy periods. Phone your nearest library to find out more, or click on the above link then select the library you want for more detailed information about the services they offer.