When to Go to Vancouver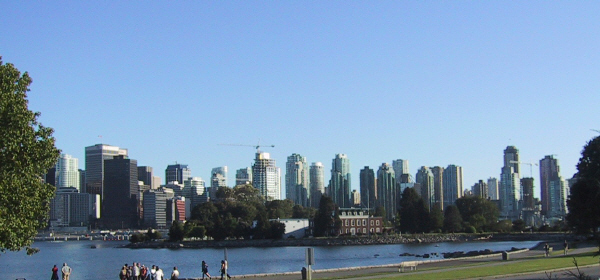 Vancouver has the benefit of a mild climate all year round, so in a sense you can visit this city any time of the year and it's unlikely to be cold. However, Vancouver does have a reputation for being a very wet city, though this isn't entirely justified! Here's the lowdown on Vancouver's weather which should help you to decide when is the best time to visit…
The Rainy Season in Vancouver
Fall (Autumn) and Winter
Fall can be very pleasant in Vancouver, but this is also the time when the rainy season begins. During October the average amount of rainfall shoots up, and remains high until March. The wettest month on average is November.
Compared to other Canadian cities, Vancouver remains mild. Only three other cities are warmer than Vancouver during the winter, (Victoria, Nanaimo and Duncan) and these are all on Vancouver Island. Snowfall in the city center is not common, and like in the UK, usually causes chaos on the roads! Having said this, because the topography of Vancouver is so varied, the climate also can be very varied, with completely different weather experienced from one area to the next. For this reason, Vancouver weather can also be quite unpredictable, and with the coastal location it can be very changeable.
Temperatures below freezing are quite rare. January is the coolest month and even then the average high is 6C (43F), and the average low is 0.5C (33F).
The Not-So-Rainy Season in Vancouver
Spring and Summer
It wouldn't be true to say that Spring and Summer in Vancouver are completely dry, but during the summer months it is actually the second driest major Canadian city (after nearby Victoria). The two driest months are July and August, and as may be expected these are also the hottest months too.
The average high temperature in July and August is a pleasant 22C (71F), whilst the average low is 13C (56F). This means that if you're planning to walk around after dark you may want to take a jacket with you as it can get a little cool. However, it's not unusual for Vancouver to experience hotter temperatures then this too. The record high, for example, was 33C (92F) in August.
For more detailed information regarding Vancouver's climate, visit the Environment Canada website.
Daylight Hours in Vancouver
Because Vancouver is a long way west within the Pacific Time Zone, daylight hours may be different to what you're used to.
To find out more about the time and daylight hours, read our time in Vancouver page.