Money in Vancouver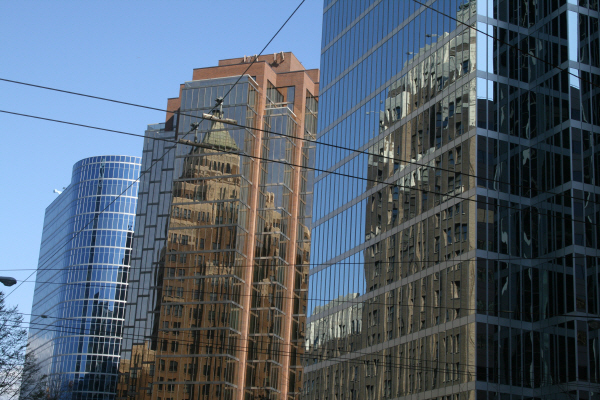 It's a well known fact that Vancouver is one of the most expensive cities in North America in many respects – property prices, dining, hotels and more, and although you're not likely to be buying any property coming here as a visitor, you should be aware that generally things are going to cost you more.
Currency
The currency used in Vancouver, and indeed the rest of Canada, is the Canadian Dollar. There are 100 cents in a dollar, and currency comes in the following denominations:
Coins – 1 cent, 5 cents (nickel), 10 cents (dime), 25 cents (quarter), one dollar (loonie) and two dollars (toonie).
Notes – The lowest value paper note is $5, then $10, $20, $50, $100 etc.
Exchanging Money
If you need to exchange money while you are here in Vancouver there are several options available for you to do this.
Using your hotel is usually a very easy and hassle-free way of exchanging money, but you do pay for the convenience in that the exchange rates are never as good. Many downtown stores will also be happy to exchange money for you, especially US dollars to Canadian dollars, but also beware that these rates will never be the best either.
Your best bet for the best rate is to use a bank or an official currency exchange. Most banks are centered around the business area of downtown, or try the following:
American Express

666 Burrard Street in the city center.
Vancouver, B.C.
604-669-2813
Denman Place Mall

1030 Denman Street
Vancouver, B.C.
604-684-9254
Travelex Currency Services

Pan Pacific Hotel, 999 Canada Place.
Vancouver, B.C.
604-641-1229
Vancouver Bullion and Currency Exchange

800 West Pender Street, city center.
Vancouver, B.C.
604-685-1008
Banks and ATM's
Using banks and ATM's is usually better value overall. You can use a credit card to make withdrawals which would usually incur a foreign currency fee, plus some banks charge an ATM fee, but you usually get a much better rate of exchange from your credit card company. Secondly you could use a debit card for cash withdrawals. Check to see if your debit card has a 'Cirrus' symbol on it and if the ATM does too then you can use it. Banks and credit card companies do all charge different rates though, so please do check with yours before coming to Vancouver rather than end up with hefty charges. US banks are apparently charging quite bad rates, for example, so be aware of this.
As well as in the banks, there are numerous ATM's in public places all around the city and whilst these are convenient, you should be aware that these do charge fees on every withdrawal and these are often more than the banks charge, so should perhaps only be used in an emergency situation.
Travelers Checks
Of course, if you don't fancy carrying around a large amount of cash, travelers checks are a safer option and although these won't be accepted in every small store in Vancouver, you can be sure that they will be accepted in major stores and in restaurants and at attractions. At least travelers checks give you the option to only take out as much as you need each day, and can also be exchanged for cash at banks and at your hotel etc, so that they can be used more easily for smaller purchases too.
Credit and Debit Cards
As mentioned above, credit and debit card give you an extra option for withdrawing cash, but of course they can also be used for making purchases.
Credit cards
Credit Cards are accepted just about everywhere – check for the Mastercard and/or Visa symbols at the checkout or on the door. For purchases, usually you can get a pretty good rate through your credit card company so this may be the best option, especially for making larger purchases. Again though, please do check with your individual company before coming to Vancouver.
Debit cards
Debit Cards are a bit different and the chances are that if your debit card is not from a Canadian bank it won't be accepted. Do remember though you may be able to use your debit card at the ATM.
International Transfers
If you need some money in an emergency, and international transfer may be your best bet although it doesn't come cheap. There are several options available for doing this:
Contact your bank at home and ask them to wire some money to a local branch in Vancouver – this is unlikely to be instant, and you'll be charged a fee by your home bank plus you're likely to be charged a fee by the receiving bank as well.
American Express also offers a similar service whereby you can get the money from a local branch. This service is often free to card holders, but do check before you commit to the transaction.
A final option is to use Western Union. They can wire money to a bank or post office, or a local agent and whilst this may be the quickest way of getting money it could also be the most expensive so please check exactly what the costs are before making your decision.
Costs
As we're already mentioned above, Vancouver is not a cheap city. The purchases which are likely to put the largest whole in your wallet are for good meals and good accommodation. Parking also can be pricey, and some of the visitor attractions may cost more than you would expect to pay.
When compared to the rest of Canada, visitors from the States will find that Canadian prices are generally a little bit more anyway, so be prepared for still a little more here in Vancouver. On the other hand, visitors from Scandinavia and Britain may be pleased with the cost of things, when compared to a city like London for example.
Tipping
So having had to spend more on a good meal, also means you have to spend more on the tip! In Canada as a whole, the norm is to leave a 15% tip for any kind of waiter or waitressing service. Usually a tip (or service charge) is not automatically added on unless you're in a large party (perhaps over 8 people), but do check your bill first before leaving extra, just in case.
Taxes and Refunds
If you've already got the impression that Vancouver is a more expensive city, you won't like the idea of having to add tax to everything you buy! Just about all quoted prices you see will not include tax, and until you get used to this it can be quite frustrating!
In Vancouver you're liable for both the federal goods and services tax (GST) and for the BC provincial sales tax (PST). The good news is that the GST has been reduced a little over the past few years and is now 5%; PST meanwhile is 7%. Additionally, alcohol has extra taxes as does accommodation.
The good news is that you can get refunds on some of the taxes you pay, but the bad news is that it's not the easiest process in the world!
Unfortunately, Canada has changed its policy on giving visitor tax rebates and since April 2007, the only rebates now available are for accommodation which is purchased through a tour operator. This means that refunds are no longer available on personal goods that you buy to take home with you.
This new rebate program is called the Foreign Convention and Tour Incentive Program, and you can find further details about how this works at the Canada Revenue Agency website.