Orientation and Areas of Vancouver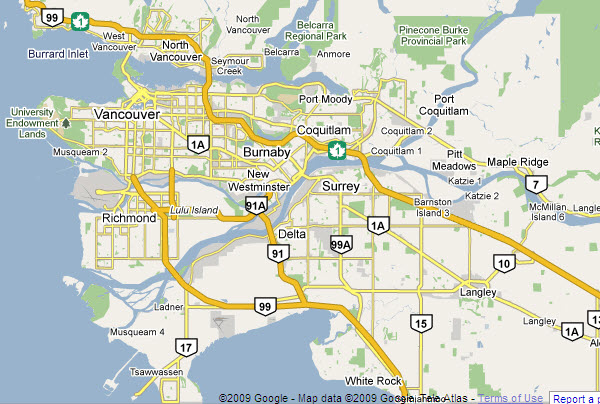 Vancouver is a large city, but not large enough that you should ever get lost here! Having said this, if you're visiting Vancouver for the first time and don't have a decent map of the downtown area, you may find yourself feeling a little baffled every now and then as you try to make your way around. The main reason for this is the water which surrounds the downtown peninsula making it confusing as to which side of downtown you're on. Don't fret though, hopefully these handy hints below will have you knowing Vancouver like the back of your hand in no time at all!
The Lie of the Land
Most visitors to Vancouver spend the majority of their time in and around the Downtown area. The first thing to remember is that this is on a peninsula, and so it juts out from the mainland and has water on three sides. These compass points should help you get orientated.
Stanley Park is at the northern end of this peninsula.
On the north east side of downtown you have Vancouver Harbour – this is where Canada Place is, and from where the cruise ships depart.
On the southern end you have a much narrower stretch of water called False Creek – Granville Island is just across False Creek from here.
To the south west and west you have English Bay, out towards the Burrard Inlet and the Pacific Ocean.
When you're anywhere along the north east coast you can see land across the water. This is North Vancouver and beyond the buildings you'll see the mountains, including Grouse Mountain.
Neighborhoods of Vancouver
Downtown
Taking Downtown Vancouver to mean the whole of the peninsula, the following neighborhoods are included here:
The City Center – also known as the Central Business District. Has Canada Place and the Lookout amongst other attractions.
Yaletown – a more historic part of Vancouver with classy boutique stores, restaurants and more.
Granville Island – re-urbanization here has created the Vancouver equivalent of Fisherman's Wharf!
Gastown – the oldest part of Vancouver has also been improved over the past 30 years and is now a thriving district attracting both tourists and locals.
Chinatown – offers shopping, eating and attractions like the Dr Sun Yat-Sen Classical Chinese Gardens.
West End – largely residential but with some wonderful historic houses, a very large gay population and some great beaches!
Stanley Park
Sitting at the northern end of the downtown peninsula, Stanley Park is about as large as the downtown area and is linked to North Vancouver by the Lions Gate Bridge.
Fairview & South Granville
Fairview and South Granville are situated south of the downtown area, and include Queen Elizabeth Park and Vandusen Botanical Gardens.
Kitsilano
Kitsilano is west of South Granville where you'll find some of the city's most important museums and some of the best beaches.
University of British Columbia (UBC)
The University of British Columbia is further west still and occupying a large peninsula is this huge university which could take a whole day to see just by itself.
SoMa (South Main)
South Main is east of South Granville is the SoMa neighborhood which is one of the city's up and coming areas, a little south of here is 'Little India'.
East Vancouver and Commercial Drive
Commercial Drive was 'Little Italy' for many years. The Italians are still here but so are countless other expats as well, making this an interesting street for shopping and dining.
Greater Vancouver
Beyond the immediate neighborhoods you have Greater Vancouver, also known as the Lower Mainland.
North Vancouver
North Vancouver as already mentioned, this is across the Harbour from the main city, and includes attractions like Grouse Mountain and the Capilano Suspension Bridge.
West Vancouver
West Vancouver is also across from Stanley Park, and together with North Vancouver this area is known as the North Shore.
Richmond
Richmound is south of the UBC peninsula is Richmond. You'll probably know this best for being the location of the Vancouver International Airport.
Other Neighborhoods
There are many more neighborhoods in Greater Vancouver. These include Burnaby, New Westminster, Surrey, Langley, Coquitlam, Maple Ridge and more.
Vancouver Streets
Being an older city (relatively speaking!), Vancouver's streets all have names rather than numbers, which doesn't really help visitors who don't know where they're going! Here are a few things to keep in mind though…
Vancouver's streets are set up in a grid pattern which comprises of blocks.
Buildings within each block are numbered accordingly by hundreds – this means that for every block the building numbers go up by 100. This doesn't necessarily mean there are 100 buildings within the block, but it's done this way to make it easier to find places!
In the city center in particular there are a number of streets which are 'one way' only. If you're driving in, make sure you check a map first and keep your eyes open for Do Not Enter signs!