Getting around Vancouver by public transport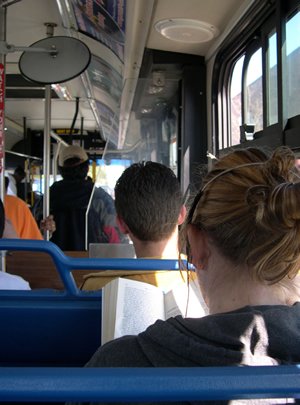 With an effective and affordable public transport system, visitors to Vancouver may find that this is the quickest and easiest way to get around the city. Here are more details on Vancouver's buses, trains and boats run by Translink.
SkyTrain
The Vancouver SkyTrain is the world's longest automated light rapid transit system, covering 49.5 kilometres of track, most of which is elevated so you can sit back and relax as you fly past all the traffic below! It is the most environmentally friendly of Vancouver's public transport because it runs on electricity, making it emission-free and energy efficient.
There are two SkyTrain lines: Expo Line and Millennium Line, covering the 33 stations between them. Both of these run into the downtown area so if you're staying in downtown you can use either one. If you're staying further outside of the city centre choose accommodation which is close to a SkyTrain station as this is probably the quickest and easiest way to get in.
Tickets are good value, and prices vary according to how many zones you're crossing and the time of day you're travelling, but your ticket is always valid for a transfer to either a bus or the SeaBus within 90 minutes of starting your journey.
You can buy tickets at the SkyTrain station using credit or debit cards, or cash – these machines do give change! There are a couple of options over and above buying a one journey ticket, and these include buying a FareSaver book of ten tickets for a reduced price (available at many convenience stores around the city), or buying a daypass which gives you unlimited travel on the day you buy it. These are available from the ticket machines at SkyTrain stations. If you're staying in Vancouver for longer you can also buy a monthly pass.
SkyTrains also accept bicycles though there are restrictions, the main one being that they are not allowed on during peak times.
SeaBus
If you take the SkyTrain all the way to the end of the line you'll end up at Waterfront. From here you're very near the SeaBus terminal, where you can catch a boat over to the North Shore (view map). Remember, your ticket purchased for the bus or the SkyTrain is valid for 90 minutes so if you're within this time-frame, the SeaBus ride will be included!
Even if you have no desire to do anything over at the North Shore, the boat ride is worth it anyway as you get some great views during the 12 minute journey. The boats which ferry passengers across the Burrard Inlet are actually catamarans and each one seats up to an impressive 400 passengers. There are departures every 15 minutes during the day (Monday to Saturday) and every 30 minutes in the evenings and on Sundays.
Bus
There are a great many bus routes across Vancouver, which are especially useful for visitors who are staying in a hotel outside the downtown area, or for those who want to explore some of the suburbs of the city.
Be aware that you cannot buy tickets in advance for buses, and must use the exact change when boarding the bus as they do not give change, unless of course you're using a transfer from another bus or from the SkyTrain or SeaBus.
In addition to the standard bus services, Vancouver also has three rapid bus routes across the city, called 'B Line'; this includes the 98 B Line route from the airport into the city.
Please Note: When you're leaving a bus and you know you want to make use of a free transfer, you should ask the driver to give you a transfer ticket.
For more information about Vancouver's public transport system, please visit the Translink website where you can find out the latest information on fares, routes and schedules.