Getting around Vancouver walking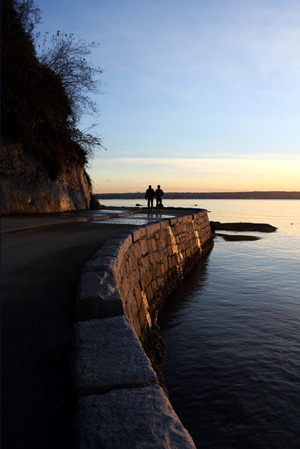 For many visitors to Vancouver, the easiest way to get around is by foot. The clean air, the mild weather and the fact that it's free is what attracts many people to walk around the city!
The Benefits of Walking Around Vancouver
Walking around Vancouver has many benefits, and here are just a few:
You can walk at your own pace and go as fast or as slow as you like.
You can go exactly where you want to go, you don't have to worry about one-way streets!
Walking is free!
You get to see far more of the city, up close and personal, than you would do in a car or bus.
Best of all, it's great for the environment as you don't cause any pollution!
If walking is what you've chosen for getting around Vancouver, remember to pack a light rain jacket or an umbrella as you don't want to get caught out by a shower!
Walking Tours
There are a variety of companies offering walking tours in Vancouver as walking has become a more and more popular way to see the city. For more information on Organized Walking Tours, see our Organized Tours page.
If you prefer to be more independent, why not try your own personal walking tour of Vancouver. We have several suggestions to help you get the most out of walking around Vancouver…
Devise Your Own Tour – Most visitors to Vancouver will have a pretty good idea of what they want to see and do before getting here. Make a list of your 'must see' destinations, locate them on a map, and plan a route. This way you get to see all the things you really wanted to and can walk to your own pace and schedule.
Follow a Suggested Walking Tour – As walking in Vancouver is so popular, a quick search on the internet will bring back loads of results for suggested walking tours around the city. These might include Downtown Vancouver, to get in the majority of the attractions, though there are also suggested routes in and around Vancouver's municipal parks, on the North Shore, and hiking trails in the nearby Provincial Parks too. It all depends on how much time you have and what you'd really like to see!
The Walk Vancouver website has a great many suggested walks, with maps, route directions and photos included. This may be a great place to start!
Stanley Park – Of course, no trip to Vancouver is complete without visiting Stanley Park! If you're not one for cycling or roller-blading around the park, walking is an excellent way to make the most of the Seawall path. To walk around the whole of Stanley Park would probably take you a good 3 hours, though if you get tired you can always hop on the free Stanley Park Shuttle Bus!