Getting around Vancouver by organized tours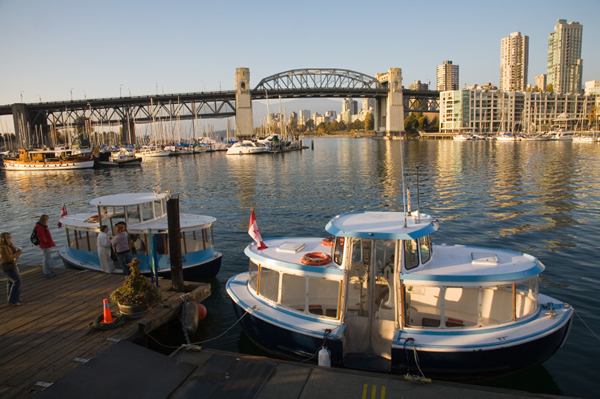 An excellent way to get around Vancouver is by organized tour. Not only can organized tours be fun, but they are usually a stress-free and very informative way of seeing the city. Narrated tours give you the opportunity to find out far more than you would if you were making your own way around Vancouver.
Here are details of just some of the organized tours available for visitors to Vancouver:
Vancouver Bus Tours
Bus tours are always popular in many cities around the world, and often provide the most affordable method of organized tour. Hop on and hop off tours are usually the best as it gives you the freedom to get off the bus when you want to take a closer look at one of the attractions, and when you're done you hop back on again!
Several companies offer bus tours in Vancouver. The Vancouver Trolley Company is one of them and they operate a number of different tours in the city, their most popular being the City Attractions Tour. This is a 'hop on, hop off' loop tour which has 23 different stops at all the must-see places around the city, including downtown, Gastown, Stanley Park and Granville Island.
The attractive 'trolleys' are not difficult to miss as they're modelled on the old fashioned trolley cars of San Francisco and are coloured red and gold, though these are alternated with double deckers every fifteen minutes at each of the 23 stops.
Big Bus is another company offering hop on, hop off tours. The Big Bus buses are recognizable because they look like red London buses and come in double decker or a single deck with open roof.
One advantage with Big Bus is that their Vancouver city tour tickets are valid for 2 days, so this gives you plenty of time to explore the city at your leisure. There are also a number of other 'combination' tours offered by this company which include tour and attraction entrance. See their website for further details of the tours available and the rates.
If you only have a half day spare in Vancouver and want to see the sights but don't have time to hop on and off and visit all the attractions, you may like the Landsea Tours Vancouver City Highlights tour. This tour is more expensive than those above, but you get a far more personal service including pick up and drop off. The tour is fully narrated and lasts 3.5 hours.
Another alternative is a city tour offered by West Coast Sightseeing. The Vancouver City Highlights Tour is of 4 hours duration and runs once a day, all year round. The tour takes in all the popular sites on its itinerary, which includes Granville Island, Gastown, the Vancouver Lookout and Stanley Park, and they can pick you up from your hotel, the cruise ship terminal and various other points in the city. West Coast Sightseeing also offer several other tours including Grouse Mountain and Whistler, plus the Vancouver City Tour in German. Visit their website for further details of these tours.
Vancouver Boat Tours
There are a number of companies offering boat tours in Vancouver. Several different experiences are available including popular harbour tours as well as dinner and lunch cruises, plus charter companies who offer a more personal cruising experience, taking you exactly where you want to go.
A one hour scenic Vancouver Harbour Tour is offered by Harbour Cruises which takes you around the Burrard Inlet. You'll travel past many of Vancouver's famous sites, like Stanley Park and Gastown with the opportunity for some great views of the city skyline and North Shore Mountains. This is a fully narrated tour, so you know exactly what you're looking at and when to get your camera ready! These tours operate from mid April to the beginning of October, but do check with Harbour Cruises for the exact dates.
Vancouver Train Tours
There are no Vancouver train tours which operate just in and around Vancouver, but there are a number of companies who do offer train journeys to places further away.
Two of the most popular Vancouver train tours are operated by Rocky Mountaineer Vacations. Their original offering is on the Rocky Mountaineer train which travels between Vancouver and Calgary, or Vancouver and Jasper, though there is now a newer train which makes a daily trip between Vancouver and Whistler, called the Whistler Mountaineer and this operates between approximately May to October.
For more information, visit the Rocky Mountaineer website.
Vancouver Air Tours
For an unforgettable vacation in Vancouver why not try an air tour? Your choices include local tours as well as tours which take you further afield, such as to Whistler, and can be by plane, float plane or helicopter.
For helicopter tours there's eJet. eJet offer 30 minute Vancouver city tours, as well as Vancouver to Whistler, plus the Fraser Valley, Langley and Abbotsford.
Harbour Air operates sea planes and have a variety of different tours too. The Vancouver Panorama tour lasts for 30 minutes and takes in the city and the North Shore mountains, or the Vancouver Panorama Extended tour lasts for 45 minutes and heads up the coast too.
Vancouver Walking Tours
There are several companies who offer organized walking tours of Vancouver and each one will have their own unique way of telling you all about the sights you're seeing!
For those visitors who would like to hear information from a published historian, try a walking tour with John Atkin. John's walks take about 2 hours and there are several available including Chinatown and Wednesday Night Walks which are different each time.
Street Hike offered three walking tours of Vancouver – West End Tour, Gastown/Downtown Tour and Yaletown Tour. Unfortunately at the time of writing, Street Hike are not offering their walking tours. But check their website regularly in case the situation changes.
EcoWalk Tours specialize in walking tours of Stanley Park. The tour takes about 3 hours to complete and is suitable for most levels of fitness as the terrain is relatively flat. You'll cover 8km (5 miles) and find out about the First Nations culture. At the time of writing, the EcoTours website is down for redesign.
Other Vancouver Tours
Audio Tours of Vancouver are an excellent idea and are included under this section because they're so versatile! Audio tours can be done on foot, by bicycle, by car or by public transport via either an mp3 downloaded file or on a CD.
The idea is that you purchase a download of a file or a CD then listen to it at your own pace as you are given an insight into various Vancouver attractions. Some companies actually rent you the mp3 player for the day.
City Talks Audio Tours are available for Stanley Park, Chinatown, Gastown and West End and they have a number of options available such as download, renting and CD purchase.
Ace Tours have a Stanley Park audio tour which can again be downloaded for your mp3 player or purchased on CD.