To/from the airport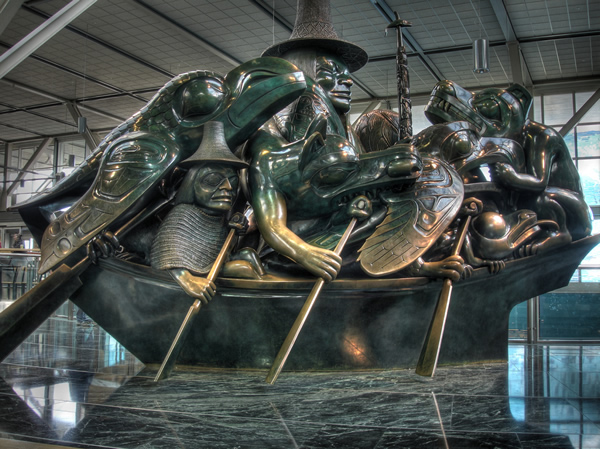 Vancouver International Airport is situated south of Downtown Vancouver in the area called Richmond. There are several options you can use to get to and from the city. Here are the most common…
Public Transportation
Traveling in to the city by standard public bus service is the cheapest option, though by no means the fastest, with a journey time of approximately 40 minutes.
To use the public bus services, walk a short distance to the Ground Level of the Domestic Terminal. Here you take bus number 424 which takes you to the Airport Station Bus Terminal. From here you can catch the rapid bus service into downtown – this is the 98 B Line.
If you keep hold of your original ticket you don't need to buy another because this is valid for travel for up to 90 minutes from the time of purchase. The only drawback with these buses is that you need exact Canadian change in coins only, so will need to make sure you have the correct fare before you leave the arrivals hall.
Visit the Translink website for up-to-the-minute information on routes, schedules and fares: or telephone the Translink Customer Information line on (604) 953-3333.
Scheduled Buses
Depending on where you're heading, an alternative option is a scheduled bus service.
For downtown, the more convenient and more expensive bus is the YVR Airporter. This drops off at the major downtown hotels as well as Canada Place Cruise Ship Terminal, although only runs between 8.20am to 9.45pm. This stops at both the International and Domestic Terminals and they run every 30 minutes between the above times.
No reservations are required for the YVR Airporter and you can buy tickets at the Airporter counter, on the coach or at their pick-up locations.
For further details, including fares and schedules, visit the YVR Airporter website.
Scheduled bus services also run from Vancouver International Airport to Vancouver Island, Whistler and Washington State. Visit the YVR website for full details of these services.
Taxis
Taxis are a good option for those passengers who want a direct and personal service in to Vancouver and are always available 24 hours a day. You do not need to pre-book a taxi, simply go outside of either the Domestic or International Terminal and wait in the queue if necessary.
Taxis will charge a metered rate and usually you should expect to pay between $23 and $26 to go to downtown Vancouver. There are a total of 16 companies who serve YVR, so vehicles may differ in make and model but all of them have to be 7 years old or less and they all accept credit cards if you don't have Canadian dollars on you.
Rental Cars
The final option is to travel by rental car from Vancouver International to the city. This is a relatively straight forward journey, though is not on a freeway, so you should expect delays during rush-hour.
Visit the YVR website for driving routes from the airport to downtown as well as other routes around the Lower Mainland.
Visit our Getting to Vancouver by Plane page for more information.