The ten most unique places to stay in Vancouver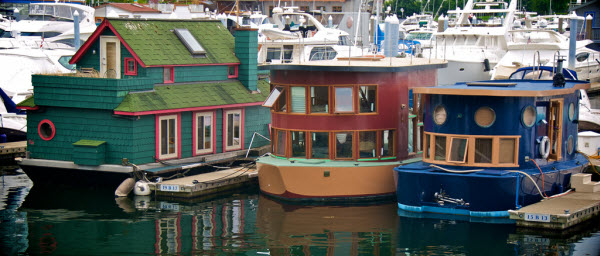 Vancouver city and Vancouver Island both offer plenty to visitors seeking something different and unique, including accommodation. If you are tired of hotel, motels and hostels, why not give one of the following a try?
1. Free Spirit Spheres
The Free Spirit Spheres has got to rank as one of the most unusual accommodations ever. Built as spheres, these tree-top dwellings are suspended like global pendants from a web of ropes. The relaxed gentle motion creates a soothing and peaceful ambiance and you can completely immerse yourself in the nature and stillness around you.
Located on Vancouver Island, off Qualicum Beach, the rates start at $125 for the smaller pod and $ 175 for the larger one. Please visit their site on www.freespiritspheres.com for more information.
2. Clayoquot Wilderness Resort
If money's no object, then book in at the Clayoquot Wilderness Resort and prepare to be pampered! You will be flown in on specially chartered flights to the resort from Vancouver. Billed as an premier eco-safari destination, the Clayoquot Wilderness report is situated on the Bedwell River and offers visitors a unique stay. Enjoy dining on the floating inn, a full service spa and additional activities such as horseback riding and kayaking, diving and whale-watching.
For more information, visit their site on www.wildretreat.com
3. Tepees and Geodesic domes at Horne Lake Caverns and Adventure Camp
If you are a larger group holidaying together, then try a tepee or geodesic dome camping at Horne lake on Vancouver Island. Situated on the lake and offering visitors some of the most spectacular scenery to wake up to; each Tepee is hand crafted with specially made wooden sleeping platforms in them. They are large enough to accommodate groups of 8-10 people. The geodesic domes are waterproof and offer visitors a comfortable, bright and airy room. You can book both the tepee and the geodesic domes on www.hornelake.com. Please visit Horne Lake Caverns and Adventure Camp's website for more information.
4. Yurt accommodation at the Riverbend Resort Campground
Fancy sleeping in a yurt? You can now. The Riverbend resort has three deluxe yurts; open, round rooms with a central skylight. Fully equipped with a kitchenette, bathroom and cable TV, they provide an unusual living area for a couple or a family of four.
Located on Vancouver Island, rates for a Yurt accommodation start at $109 in winter and $139 in summer and can be booked at Riverbend Resort Phone Toll Free: (800) 701-3033.
5. Vancouver Aquarium
How about dining not on, but with fish? Vancouver Aquarium continues its popular overnight stays for families eager to get close to marine life. The evening begins at 9pm with a light snack after which you get to participate in a number of activities, including feeding the fish and giving them their bed-time nutrition snacks. The night ends only by 1:30 or 2am when you get to crawl into your sleeping bags in a specially designated area. In the morning, you head off for breakfast and can wander around, exploring the aquarium before the crowds start filtering in at 9am.
Overnight stay rates start at $ 120. For more information, visit http://www.vanaqua.org/visit_us/sleepovers.html
6. Igloo
What Canadian experience can be complete without a stay in an igloo? At west coast adventures, you not only get to stay overnight in an igloo at destinations just outside Vancouver, but you will also get to build one! Imagine a few hours of pleasurable labour creating your new home; which you then get to enjoy under a clear night of stars and fresh winter air!
Please visit http://www.westcoast-adventures.com and www.themountainschool.com for more information.
8. Houseboat - Various Locations across Canada
And if camping or snowshoeing are not your thing, then how about a stay on the river? Canada's massive number of lakes and rivers make it an ideal country in which to travel and live on a houseboat. Anyone with a driver's license can rent a houseboat and an excellent site to visit is http://www.bcadventure.com/adventure/houseboating/index.html
9. Vancouver Zoo
Kids and adults alike will love this one! Your own sleepover at the zoo! Starting at $32 per person, you get to check in at 4pm and spend the entire evening and night with the animals. Learn about endangered species and take a walking safari. You need to bring your own tent and sleeping bags, but the picnic area has water, electrical outlets, washrooms and even barbeques!
Visit www.gvzoo.com for  more details.
10. Kw'o:kw'e:hala Eco Retreat
An hour outside Vancouver lies the beautiful mountain-surrounded town of Hope and besides it, the picturesque Kw'o:kw'e:hala eco retreat. Explore all 7 acres of pristine wilderness and then retreat to your eco friendly cabin, complete with feather beds and line dried linen. Fancy laying down by the river? The Riverside Nest is your place to recharge and wash away your worries to the soothing sounds of water and nature.
Depending on how much or how little you want to do (there is a sauna, spa and a number of other amenities to select from); rates start from $249 onwards and you can visit www.ecoretreat.com to book your stay.
So there you have it! 10 unique places, each guaranteed to make your stay in Vancouver one of your most memorable ever.