The five cheapest stays in Vancouver that won't gross you out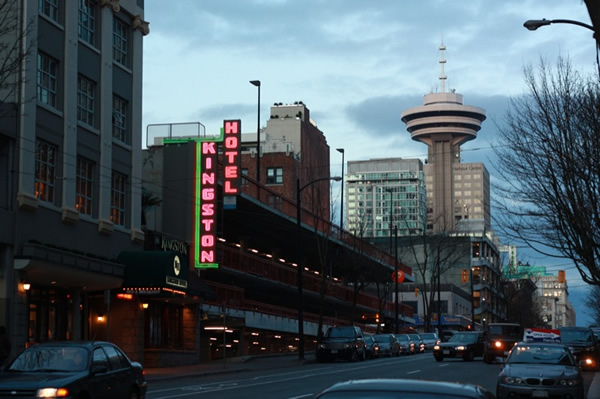 When you're on a budget holiday, finding suitable accommodation that won't turn on you is top of the list. Unless on a camping holiday, most visitors will look for either hostels, bed and breakfast or cheap hotels in which to lay their weary heads after a full day of taking in the sights.
Vancouver is one of the cities that understands what budget is all about. While you find some of the most luxurious hotels in the world located in Vancouver, you will also find hotels that suit the less well-lined pocket.
If you do opt for a hostel, you should know that typically hostels offer sharing accommodation, and you may be sharing your room with a stranger or a couple of strangers for the duration of your stay. Most hostels are open to both men and women, with shared or uni-sex dormitories, but some of them impose age restrictions on their visitors. Many do offer a private bedroom with showers, but you will need to spend extra to avail of these facilities.
Cheap hotels in Vancouver are also plentiful, but not all of them may be in good condition or safe neighbourhoods.
A final option to look at are bed and breakfast lodgings. These are usually located in someone's home, and in addition to a bedroom you may also have a private bathroom. Usually breakfast is either a catered affair of you will have access to a kitchen to cook up your own meal. However, note that not all bed and breakfast joints are cheap. Some cost almost the same as a room in a four star hotel.
The following are 5 options, which provide suitable, affordable accommodation in clean lodgings:
HI-Vancouver Central, Vancouver, Canada
Located in the central Granville Street district, this is one trendy hostel. It even has a bar on site! For those not keen to live above a bar though, check out their other locations, HI-Vancouver Downtown or the Hi-Vancouver Jericho Beach. The HI includes excellent, safe and comfortable rooms with linen and towels thrown in. You have the option of private rooms or shared facilities. The HI-Vancouver includes breakfast.  Wi-Fi and Internet access is also available.
Summer rates for a 4 Bed Dorm (male, female or mixed) start at Cdn$ 28.30
SameSun Backpacker Lodge
The Lonely Planet British Columbia guidebook 2007 says this of the SameSun lodge: Many regard as Vancouver's best. The SameSun reflects its boisterous Granville St. location by offering a hopping backpacker bar. Facilities include private and shared rooms, breakfast, internet and Wi-Fi access, towels and linen and kitchen facilities.
Summer rates for a 2 Bed Dorm (male, female) start at Cdn$ 26.05 and private rooms start at Cdn$ 52.10
Barclay House, Bed and Breakfast
If you are travelling to Vancouver with the family or just prefer some more privacy, then bed and breakfasts are a good alternative to hotels, motels or hostels. One such bed and breakfasts is the Barclay House. Located centrally in Vancouver, it's billed as a five Start bed and breakfasts at affordable prices.
The rooms start at Cdn$ 49 for a single and Cdn$ 59 for double rooms.
AA Catherine's Bed and Breakfast
Another such bed and breakfasts is AA Catherine's Vancouver B&B. Located downtown, they provide you with an affordable bed and breakfast option. Guests have easy access to public transport and a number of major tourist attractions are a stone throws away.
The rooms start at Cdn$ 49 for a single room.
Kingston Hotel
And finally, if you are not comfortable staying in someone else's home, then the Kingston Hotel is an excellent choice. Built as a budget boutique hotel, it's located in a heritage building and is family owned and operated, making it a pleasant, comfortable home away from home.
Rates for a single room start at Cdn$ 55 and for a double room, Cdn$ 65.
So there you have it! Proof that staying in Vancouver, one of the most beautiful and fun-filled cities, need not be an expensive option. You can still enjoy the sights and pleasures that Vancouver has to offer, on a budget stay.