Bowen Island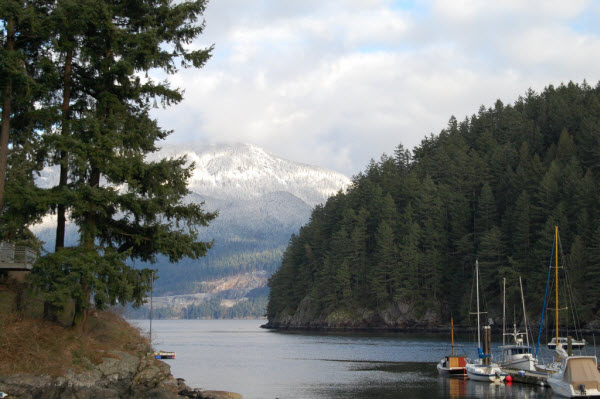 Where is Bowen Island?
Bowen Island is a relatively small island situated 3.75 miles (6km) off the coast of West Vancouver.
Being an island you can only get here by boat or seaplane, though Bowen Island is easily accessible via the BC Ferries regular service from Horseshoe Bay which takes just 15 minutes. You can take your car onto this ferry, but many day visitors choose not to because Bowen Island is easy to get around by bicycle or on foot and you can leave your car at Horseshoe Bay.
Please visit the BC Ferries website for full details of the schedule, fares and reservations.
Bowen Island Attractions
Bowen Island has long been a popular destination for day trippers and vacationers from Vancouver. There are permanent residents on the island, though many properties are owned as summer homes so are not occupied all year round. The short distance from Vancouver is one of the major attractions with Bowen Island and though there are not a great many services here, people visit for the scenery and recreational opportunities, such as hiking and swimming.
Bowen Island measures just 3.75 miles (6km) wide by 7.5 miles (12km) long and has quite a hilly terrain.
Bowen Island Highlights
Hiking
The natural scenery is one of Bowen Island's major highlights, and hiking is a great way to see it. There are a number of trails on the island, though one of the most popular (and longer ones) leads from the ferry dock to Killarney Lake (about 45 minutes walk from Snug Cove) and then up Mount Gardner, which is the island's highest point and hence has some wonderful views.
Apodaca Provincial Park
Bowen Island's only provincial park is Apodaca. This is quite a small park, at only 8 hectares, and is largely undeveloped because its main priority is to preserve the unique plant communities found here. Visitors can still enter the park and enjoy the scenic cliffs (with caution!), and both the land and marine wildlife which you may see here. Visit the BC Parks Apodaca Provincial Park webpage for further information.
Snug Cove
Snug Cove is the cute village you'll arrive in on the ferry from Horseshoe Bay. Some of the original buildings from the 1900's are still standing and are very attractive to look at. These were built by the Union Steamship Company – the current post office building for example, used to be one of the company's store houses. There's a general store in Snug Cove, plus a few places to eat and the post office, but you won't find any large shops or supermarkets here!
Crippen Park
Around Snug Cove is the popular Crippen Park. This is a 600 acre park and has a number of attractions to keep the family occupied for a day. On Bowen Island you can enjoy sandy beaches, swimming and even kayaking from the rental company in the village.
Bridal Veil Falls and Fish Ladder
About 10 minutes walk from Snug Cove is the pretty Bridal Veil Falls where you'll also find a fish ladder and may be lucky enough to see some fish making their way up it for spawning!
To find out more about what you can see and do on Bowen Island, please visit Bowen Online or Bowen Island.com.