Whistler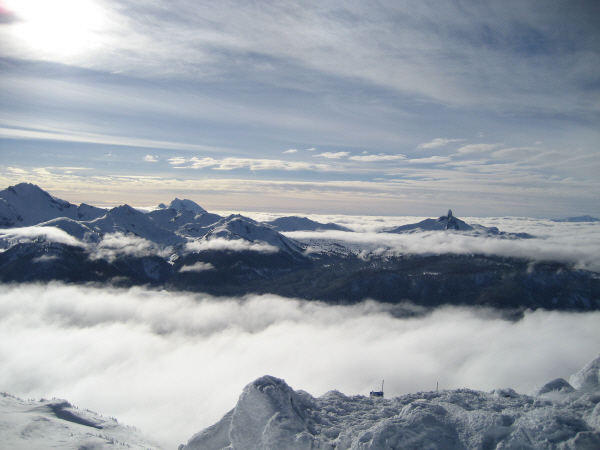 Where is Whistler?
Whistler is about 78 miles (125km) north of Vancouver and is accessible from the city via a number of different modes of transportation.
By car, the drive up to Whistler is on one of the most spectacular stretches of highway in the world, Highway 99, also known as the Sea to Sky Highway which you can read all about on our Sea to Sky Highway page.
Other transport and frequency of service depends on the time of year – Rocky Mountaineer Vacations offers a scenic train, called the Whistler Mountaineer, which runs between Vancouver and Whistler usually between May and October. Visit the Rocky Mountaineer website for further details on this service.
Coach services are also popular, and there are several companies offering this route – Perimeter Whistler Express runs daily with up to 11 trips per day between YVR Vancouver International Airport and Squamish and Whistler. Visit the Perimeter Bus website for more info. Pacific Coach Lines also has a YVR to Whistler service called SkyLynx with up to 9 departures daily. The Pacific Coach website has more details. Finally, for a more touristy option, West Coast Sightseeing has a Whistler and Shannon Falls Tour. Visit the West Coast Sightseeing website for full tour details.
A Short History of Whistler
Whistler (or more correctly Whistler-Blackcomb) is one of the best known and most visited ski resorts in the world and with many events scheduled to take place here in the 2010 Vancouver Winter Olympics, Whistler is set to become an even more popular place!
Many visitors might be surprised to learn where the name 'Whistler' comes from. Well it was originally named London Mountain, after London, England, due to the heavy fog and cloud which often hung around, though the mountain soon acquired the more informal name of Whistler after the hoary marmot which is indigenous and common to the area, and which calls by whistling!
Despite a history going back to the 1860's it was not until 1966 that Whistler Mountain officially opened as a ski resort. The area has grown tremendously since then – in 1997 Whistler and neighboring resort Blackcomb decided to merge to form the mega ski resort called Whistler-Blackcomb, the largest single ski area in North America
Skiing and Snowboarding in Whistler
The impressive statistics for Whistler-Blackcomb say it all really, so rather than bore you we'll let the stats do the talking!
Mountain Stats for Whistler
Vertical- 1,530 meters / 5,020 feet
Top Elevation - 2,182 meters / 7,160 feet
Skiable Terrain - 4,757 acres / 1,925 hectares
Terrain Type (beg/int/adv) - 20%/ 55%/25%
Trails - 100+
Parks & Pipes - 3 Parks
Total Number of Lifts - 21 including: 2 high-speed gondolas, 6 high-speed quads, 2 triple chairs, 1 double chair, 9 surface lifts
Total Hourly Lift Capacity - 32,295 skiers per hour
Longest Run - 11 km/7 miles Burnt Stew to Green Line, Upper and Lower Olympic
Mountain Restaurants - 8
Snowmaking - 215 acres/87 hectares
Mountain Stats for Blackcomb
Vertical - 1,609 meters / 5,280 feet
Top Elevation - 2,284 meters / 7,494 feet
Skiable Terrain - 3,414 acres / 1,382 hectares
Terrain Type (beg/int/adv) - 15%/ 55%/30%
Trails - 100+
Parks & Pipes - 3 Parks, 1 Super Pipe
Total Number of Lifts - 17 including: 1 high-speed gondola, 7 high-speed quads, 3 triple chairs, 7 surface lifts
Total Hourly Lift Capacity – 29,112 skiers per hour
Longest Run - 11 km/ 7 miles Green Road down Easy Out
Mountain Restaurants - 9
Snowmaking - 350 acres/142 hectares
Stats courtesy of Whistler Blackcomb Official Website.
Places To Stay in Whistler
In and around Whistler village there are literally thousands of beds available for visitors, so you would think that finding a room here would be a breeze! However, it's not always the case because Whistler is so so popular that if you're coming to Whistler for more than a day trip you really should book your accommodation in advance.
Peak season in Whistler is the winter. After all, Whistler is one of the most famous ski resorts in the world and everyone wants to ski or snowboard here at least once in their lives!! Having said this, Whistler is also now becoming a very popular summer destination too – hiking in the area has always been popular, but Whistler has been developed as a top class mountain biking resort too, making this now a year-round resort.
A quick search on an internet search engine and you'll also bring back hundreds of websites offering information on places to stay in Whistler, so there's no point in us adding to those! However, the official Whistler Blackcomb website has lots of information on accommodation and everything else regarding the resort of Whistler-Blackcomb, so please check there.