Hell's Gate Airtram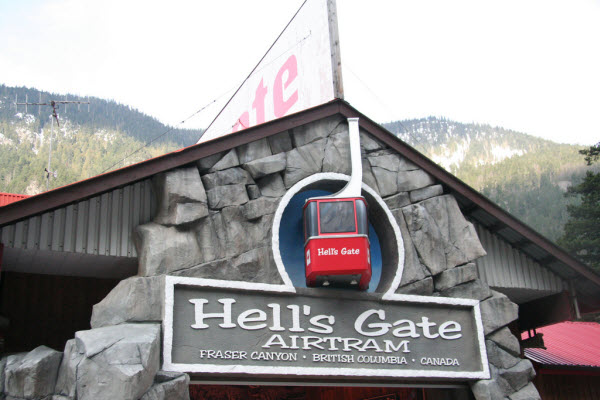 Where is Hell's Gate Airtram?
Hell's Gate Airtram is situated in the Fraser Canyon which is about 2 ½ hours drive to the north east of Vancouver. The journey is relatively easy (and very scenic!) by car from Vancouver – take Highway 1 (the TransCanada) to Hope. At Hope the main freeway becomes Highway 5 and hence you have to exit to stay on Highway 1 (Exit #170). Continue up Highway 1 through Yale and Spuzzum then another 10 minutes to Hell's Gate.
Hell's Gate Airtram Attractions
Hell's Gate is a small section of the Fraser River which narrows to just 110 feet (34 meters) and hence all the water coming down the Fraser River must pass through this small gap. As you can imagine, that's a lot of water and the noise it makes is quite tremendous!
The Hell's Gate Airtram was first envisaged back in 1969 and construction began in 1970. Just one year later Hell's Gate Airtram opened on July 20, 1971 and became an immediate success!
Hell's Gate Airtram Highlights
The Airtram
Obviously the main highlight of a trip to Hell's gate is the Airtram itself! With a capacity of up to 530 passengers per hour you shouldn't have to wait long for your ride on the tram which takes you up and over the canyon and Hell's Gate itself for some spectacular views.
Ghost Tours
Usually just reserved for Halloween, Hells' Gate Airtram is now offering Ghost Tours throughout the season! Hell's Gate is said to be haunted by a variety of ghosts, so you and your family might even get to meet these characters on your tour!
Fudge Factory
After your Hell's Gate Airtram ride, you must visit the Fudge Factory which is in the Guinness Book of Records for having the most flavors of fudge available at 231! You probably don't want to sample all of them, but which ones will you choose?! If fudge isn't your thing, how about trying one of the 16 different flavors of ice cream instead?!
Gold Panning
 Maybe you'll strike it rich like the pioneers at Hills Bar did in the 1860's.
Suspension Bridge and Observation Deck
A great spot for viewing the International Fisheries here at Hell's Gate.
Fisheries Exhibit
Inside the fisheries display you can watch an award winning short video about the Sockeye, called Run Sockeye Run, as well as two other videos: Thunder in the Canyon and Fraser Canyon Gold. In addition the whole family can learn about the life cycle of the salmon.
Gift Stores and more
No visit is complete without buying a souvenir and there are several stores at Hell's Gate Airtram where you can buy gifts for yourself and friends and family. In addition there's a café where you can grab a drink and a bite to eat.
To find out more about Hell's Gate Airtram including the season opening dates and hours, as well as admission prices and more, please visit the Hell's Gate Airtram website.
Hell's Gate Airtram

43111 Trans Canada Highway, Boston Bar
V0K 1C0
Vancouver, B.C.
604-867-9277