Squamish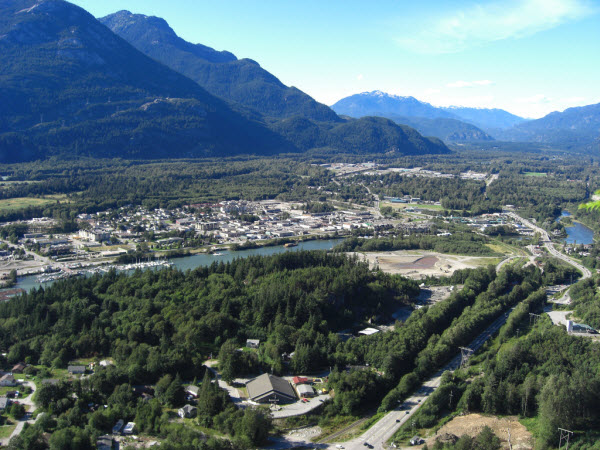 Where is Squamish?
Squamish is a town on Highway 99 – the Sea to Sky Highway – north of Vancouver and is approximately 36 miles (58km) south of Whistler. Squamish is at the top (northern) end of Howe Sound.
Squamish Attractions
Squamish is rapidly becoming known as the Outdoor Recreation Capital of Canada and when you visit you will soon see why. The town is surrounded in natural beauty – water, mountains, valley and more, all combining to make this an excellent place to enjoy the great outdoors to its fullest!
Squamish takes its name from the local First Nations tribes who have lived here long before the European settlers arrived. The gold rushes of the mid 1800's started attracting settlers to the area and the town started to grow from 1889 onwards, with a school being built a few years later, and the first hotel a few years after that.
Squamish is now popular for many reasons – it's one of the top rock climbing destinations in North America and is also famous for mountain biking.
Squamish Highlights
West Coast Railway Heritage Park
The West Coast Railway Heritage Park is just outside Squamish town and is a great family attraction with a variety of things to see and do. See our West Coast Railway Heritage Park page for further details.
Provincial Parks
There are several Provincial Parks in the vicinity of Squamish. Shannon Falls Provincial Park is just to the south. Here you can see BC's third highest waterfall. Right next door to this is Stawamus Chief Provincial Park, then a little way to the south you have Murrin Provincial park and a little way to the north Alice Lake Provincial Park. These destinations alone add up to some great outdoor activities, including camping, hiking, fishing, wildlife viewing and more. Visit the BC Parks website for further information on all of these Provincial Parks.
Rock Climbing
Squamish is renowned as an excellent rock climbing destination and being surrounded by the mountains of the Coastal Range it's no surprise! One of the favorites with rock climbers is Stawamus Chief – this is a huge granite massif with a steep cliff face which is tackled by some climbers, or there are over 300 other climbing routes around the Chief, all culminating in some spectacular views. In total in the Squamish area there are said to be over 1200 rock climbing routes!
Mountain Biking
Mountain Biking is the other hugely popular outdoor pursuit in Squamish. Surrounding the town there are over 600 mountain biking trails which are suitable for all levels of ability to enjoy.
For further information on everything you can see and do in the Squamish area please visit the Tourism Squamish Website.