The Sunshine Coast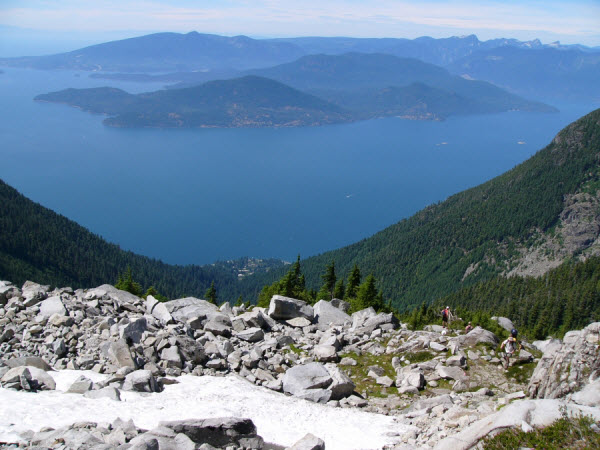 Where is The Sunshine Coast?
The Sunshine Coast is the name given to the coastal strip of land which runs along the eastern shore of the Strait of Georgia, from Howe Sound all the way to Desolation Sound – a distance of over 53 miles (86km).
Because the Sunshine Coast is geographically split from the rest of British Columbia by steep mountains, no roads have been built which directly access the area. This means to get here you have to come by ferry, boat or seaplane. Don't let this put you off though, as it's easy to bring your car here using one of the BC Ferries which go from either Horseshoe Bay to Langdale or from Little River (near Comox on Vancouver Island) to Powell River.
Once you're on the Sunshine Coast, the towns, villages and other attractions are well linked by Highway 101 and other smaller ferry crossings so you should have no trouble getting around.
If you don't have your own car, you can also get to the Sunshine Coast by coach. Malaspina Coach Lines operate a service which runs from both Vancouver Airport and Downtown Vancouver then crosses over via the ferry from Horseshoe Bay to Langdale and up as far as Powell River. Check the Malaspina Coach Lines website for information on their schedules and fares.
The Sunshine Coast Attractions
True to its name, the Sunshine Coast does enjoy a lot of sunshine! The average annual hours of sunshine range from 1,400 to 2,400 so the good weather is certainly one of the appeals of this area. The scenic beauty visitors can experience all around is another big attraction of the Sunshine Coast and when you add to this the opportunity for many outdoor pursuits this becomes the perfect place for a vacation getaway.
The Sunshine Coast covers a large area and hence there are many villages and towns here as well as many interesting places in between. It would be impossible to write about every single one, so here are some of the highlights which visitors to the Sunshine Coast should not miss.
The Sunshine Coast Highlights
Gibsons Landing
The popular little fishing village of Gibsons Landing is the first stop on most people's tours of the Sunshine Coast (when coming from Vancouver anyway!). Art galleries, great restaurants, the harbor and marina all make Gibsons Landing what it is. You can read all about it on our dedicated Gibsons Landing page.
Roberts Creek
Roberts Creek is the next 'major' community along and is renowned as being a safe, family-oriented place. As you'll find along most of the Sunshine Coast there is a Provincial Park nearby here for those who like to be active. Mount Elphinstone Provincial Park consists of forests with many hiking and off-road biking trails. In addition to this is the Cliff Gilker Park which also has some excellent trails and beautiful scenery. If your idea of recreation is a day on the fairway, the Sunshine Coast Golf and Country Club has a great 18 hole course which is open to the general public. And if you want to cool off with a swim, Roberts Creek has a lovely sandy beach where you can picnic, swim and enjoy the sun!
Sechelt
Sechelt is one of the largest towns on the Sunshine Coast so is the kind of place you might want to stop in for a few days or more to make the most of it. Highlights of a visit to Sechelt include the heritage buildings, such as Rockwood Lodge and the popular Wakefield Inn with wonderful views of the Georgia Strait and the tiny Trail Islands.
There are a number of Provincial Parks in the Sechelt area – Porpoise Bay Provincial Park offers some great camping and RV sites as well as beaches, hiking trails and more, and Mount Richardson Provincial Park with its stunning views of Sechelt Inlet, to name just a few.
Pender Harbour
Pender Harbour is not just one community but a combination of several which are scattered around this disheveled coastline! There are a couple of hikes you can take which get you up above the communities and offer some spectacular views – Mount Daniel is one such, and although the hike is steep it's not too difficult. An alternative is Pender Hill which isn't as steep or long as the hike up Mount Daniel. The view from the top of Pender Hill includes the harbor.
If you want to stay and enjoy some camping in the Pender Harbour area try Katherine Lake Regional Park which also has a great sandy beach and calm waters to it's safe for all the family to enjoy a swim.
Earls Cove and Egmont
You have to go north of Pender Harbour in order to continue by car along the Sunshine Coast because you have the catch the ferry from Earls Cove to Saltery Bay. If you have a little time on your hands though, take a short side trip to the tiny village of Egmont to the east of Earls Cove. This village really takes you back in time, to a time when life was simpler and less harried!
A short distance outside of Egmont is the Skookumchuck Narrows Provincial Park. Here you can witness the rush of water when tidal waters are forced through the narrow and shallow channel of speeds of up to nearly 19 mph (30kph). It's quite a sight!
Powell River
Crossing over via the ferry to Saltery Bay you may like to visit the Saltery Bay Provincial Park. There's camping here amongst other things, or if you want to continue your journey west (or head north a while for that matter) there are numerous Forest Service campsites in this area between Saltery Bay and Powell River.
Powell River is one of the Sunshine Coast's larger towns, and includes the older communities of Wildwood and Cranberry. From Powell River you can continue along the Sunshine Coast, or use the BC Ferries crossing which goes from here to Little River on Vancouver Island. You can also catch a smaller ferry from here to the nearby Blubber Point on Texada Island. Texada Island itself has several Provincial parks at the southern end and a couple of Forest Service campsites scattered across the island if you want to camp the night.
Lund
Lund is a small settlement famous for being at the end of the long Highway 101. Although there are roads beyond Lund the journey becomes a little more difficult as these are Forest Service roads and are not usually as well maintained as a highway would be. However, the onward journey to Desolation Sound, and the end of the road, is a popular one with several Provincial Parks to enjoy along the way and of course some stunning scenery!
If your appetite has been whet and you'd like to find out more about the Sunshine Coast there are several websites with further information. Try SunshineCoast.ca or Big Pacific website for example.