Entertainment in Victoria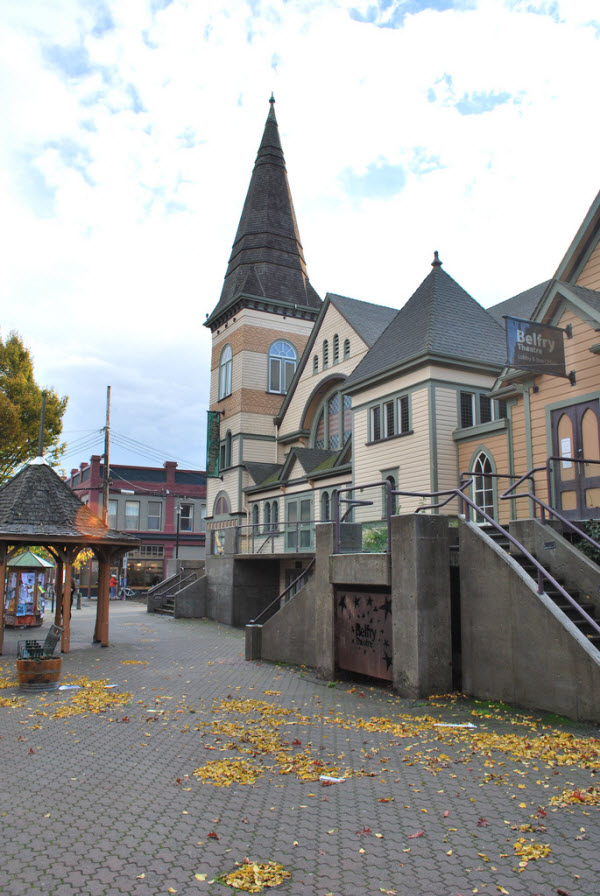 Theatres in Victoria
The Belfry
The Belfry Theatre

1291 Gladstone Avenue
Victoria, B.C.
250-385-6815
The Belfry, as the name suggests, is a theatre set within a restored heritage church and produces up to 12 plays per year. The focus is on contemporary work and especially new Canadian plays. Visit the Belfry Theatre website for information on their current productions.
Langham Court Theatre
Langham Court Theatre

805 Langham Court
Victoria, B.C.
250-384-2142
The Langham Court Theatre is in its 80th season of entertaining audiences as a community theatre and produces a variety of plays including classic favorites such as Shakespeare, plus other adapted well known titles. Visit the Langham Court Theatre website for full details of their productions.
McPherson Playhouse
McPherson Playhouse

3 Centennial Square
Victoria, B.C.
250-386-6121
The McPherson Playhouse first opened its doors in 1914 under a different name. The Neo-Baroque style auditorium and rest of the theatre underwent major refurbishment in 1965 in order to continue entertaining the locals and visitors to Victoria. The McPherson Playhouse now features a range of amateur, community and professional performances and is under joint administration with the Royal Theatre (see below). The RMTS website has a calendar of performances and ticket information.
Royal Theatre
Royal Theatre

805 Broughton Street
Victoria, B.C.
250-386-6121
The Royal Theatre has been entertaining audiences since 1913, and has also been used in part as a cinema. In 1987 it was recognized as a site of national historic importance and has recently undergone extensive renovations to bring it up to today's standards. The Royal Theatre has hosted many famous names, including Luciano Pavarotti and is now the home to the Victoria Symphony and the Pacific Opera Victoria, in addition to hosting many touring company productions. Visit the RMTS website for details of productions.
Other theatres in Victoria include:
Theatre Inconnu
Theatre Inconnu

1923 Fernwood Road
Victoria, B.C.
250-360-0234
Theater Inconnu is an alternative theatre company based at Fernwood Little Hall.
Intrepid Theatre
Bringing experimental, alternative and Fringe theatre productions at the Metro Studio and Intrepid Studio. Visit the Intrepid Theatre website for further information.
Cinemas in Victoria
There are several cinemas in Victoria which range from the more typical modern cinemas, to the IMAX cinema, to the Roxy Classic historic cinema. Details are below…
Capitol 6

805 Yates Street
Victoria, B.C.
250-412-2255
Odeon Victoria Cineplex

780 Yates Street
Victoria, B.C.
250-383-0513
SilverCity Tillicum Cineplex

3130 Tillicum Road
Victoria, B.C.
250-381-9300
Star Cinema

9842 3rd Street, Sidney
Victoria, B.C.
250-655-1171
University 4

3980 Shelbourne Street, Unit #100
Victoria, B.C.
250-721-1171
Roxy Classic Theatre

2657 Quadra Street
Victoria, B.C.
250-382-3370
National Geographic IMAX Theatre Victoria

675 Belleville Street
Victoria, B.C.
250-953-IMAX
You can find out what's showing and show times for all of the above cinemas all in one place on the WebVictoria website.