Places to Stay in Victoria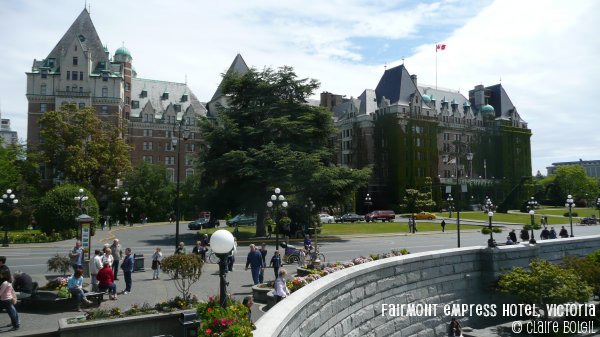 Being a popular destination with visitors from around the world, Victoria certainly has no shortage of places to stay and you can usually find something suitable for every budget here. You may also be pleased to find that often Victoria accommodation prices can be a little less pricey than in Vancouver!
From the Upmarket to the Budget Conscious!
We can't detail every single hotel or motel within Victoria, so here are just a couple at opposite ends of the price spectrum…
The Fairmont Empress
The Fairmont Empress

721 Government Street
Victoria, B.C.
1-866-540-4429
It would be very difficult to miss the Fairmont Empress with its hugely commanding position sitting over Victoria's Inner Harbour, as it has been doing for the past 100 years. The Fairmont Empress represents a time when Victoria was a relatively young city and travel to distant places was something that only the rich and famous could enjoy! Indeed if you have the budget to be able to afford a night in this spectacular historic hotel then you deserve to think of yourself as rich and famous too!
Guests can enjoy one of the 477 luxuriously appointed guest bedrooms and suites, with views of the harbor, the city or the courtyard and after a day sightseeing a complimentary visit to the Willow Stream Spa is well deserved with its indoor heated swimming pool, saunas and fitness center.
For dining, the Fairmont Empress offers a wonderful variety of cuisines – the Bengal Lounge, the Empress Room, The Veranda and an Afternoon Tea experience help to set the scene in this luxurious hotel.
Please visit the Fairmont Empress Hotel website for further information on the facilities, services and accommodation offered here as well as checking rates and availability and details of special packages.
QualityInn Downtown Victoria
QualityInn Downtown Victoria

850 Blanshard Street
Victoria, B.C.
250-385-6787
The Quality Inn Downtown Victoria is not necessarily the cheapest option for a hotel in Victoria, but it does offer excellent value for money and a great location – you would be hard pushed to find another hotel of this quality, this close to all the attractions for the price.
Located just two blocks from the Inner Harbour, this is a great location from which to explore Victoria. There are 63 guest rooms and suites of varying sizes, though all are spacious and well furnished with everything you need for a comfortable stay.
As an added bonus, finding a hotel in this price range which also includes a heated indoor swimming pool is quite a surprise, and the free wireless high speed internet and free parking also add to the appeal of the Quality Inn Downtown Victoria. In addition, you can enjoy breakfast, lunch or dinner in the Green Room Restaurant or in the English-styled Smiths Pub.
For full information on all the facilities, accommodation, dining opportunities, rates and availability please see the Quality Inn Downtown Victoria website.
If neither of the above hotels in Victoria take your fancy, you can find details of many more places to stay on the Greater Victoria.com website.