Getting to and from Victoria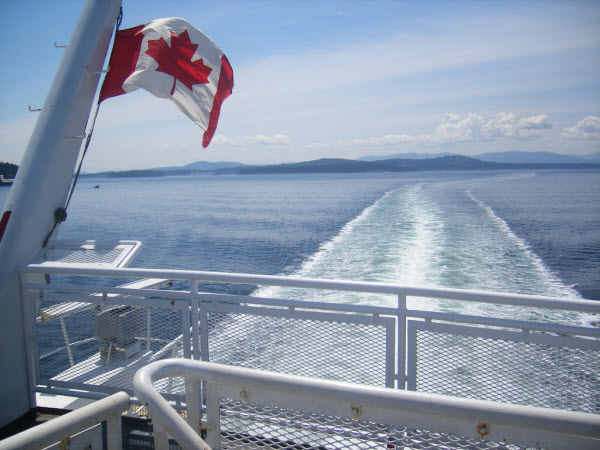 Victoria is situated on Vancouver Island and is actually quite a way further south from Vancouver itself. The maps are always misleading as to just how far Vancouver Island is from the mainland; you anticipate a short journey on the ferry, when in fact you're traveling over 60 miles (100km)! Being on an island obviously this leaves just two ways to get here – by boat or by plane. Both methods are equally popular, and which one you decide to take will really depend on your budget, your timescale and whether you want to bring a vehicle over.
BC Ferries
BC ferries operate all of the public ferries which cross between the mainland and Vancouver Island as well as the other smaller islands in the region.
The two main ferry terminals on Vancouver Island are near Victoria (at Swartz Bay) and at Nanaimo, though if you're coming to the Island to visit Victoria, you would be far better traveling straight to Swartz Bay as Nanaimo is another couple hours drive north of Victoria.
It's unfortunate that the ferry terminals are not nearer the cities in both Vancouver and Victoria. Tsawwassen is the Vancouver ferry terminal which is 24 miles (38km) south of the city so is by no means within walking distance! If you have your own transport it's not an issue (though it can take a while!), otherwise you'll have to rely on coach services to get you to and from Downtown Vancouver.
The ferry terminal for Victoria is at Swartz Bay which is 20 miles (32km) north of the city. Again, by car this isn't so much of an issue though otherwise you need to rely on coach services.
The ferry crossing between Tsawwassen and Swartz Bay takes about 90 minutes and services are fairly frequent throughout the day, varying with the time of year. During busy periods, if you know which ferry you want to take and are taking your vehicle too, it's advisable to reserve a space in advance, though at other times reserving isn't usually required.
Visit the BC Ferries website for all the information you need on crossing schedules, regulations, ticket prices and more.
Coach Service
You can also travel via BC Ferries if you're coming to Victoria by coach service. If you don't have your own transport, coach services offer a good alternative because they run from Downtown Vancouver to Downtown Victoria, via the ferry crossing. You buy an all in one ticket which covers you for the entire journey.  Pacific Coach Lines offer several services daily – see the Pacific Coach Lines website for further details.
Seaplane
Traveling from Vancouver to Victoria by seaplane has several advantages over the ferry – it's faster, it's more convenient and it's great fun too as you get to see some spectacular scenery on the short flight over!
Seaplanes are more convenient because they fly from and to the heart of both cities, taking off and landing in the harbor so you don't have extensive traveling to do at either end.
There are several airlines who offer a service between Vancouver and Victoria – The airline with the largest seaplane fleet is Harbour Air website, though West Coast Air website also flies this route and other routes too. Check their websites for details on fares, schedules and more.