Shopping in Victoria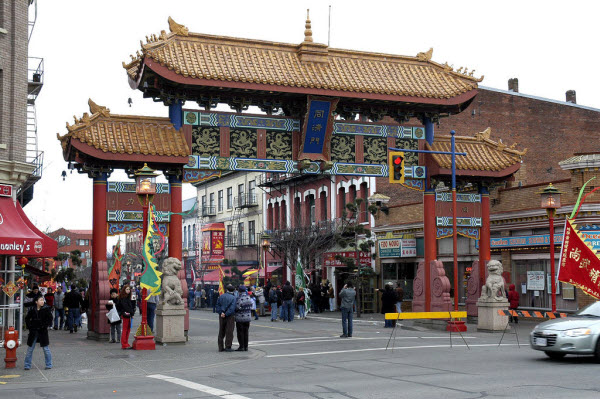 There is great shopping almost everywhere you look in Victoria, from souvenir stores to up-market designer boutiques you can find it all in the city of Victoria.
We've divided the information below into 'On-Street Shopping', meaning the standard stores you'll find in the city streets, and 'Shopping Malls' for information on shopping malls within Victoria.
On-Street Shopping in Victoria
On-street shopping is a great way to see the city of Victoria because you're outdoors and taking everything in! There are many streets in Victoria which have some great shops – if you're looking for anything British, then Victoria is a good choice for you!
Government Street
Lots of 'British themed' shops here including ones where you can buy English bone china, Scottish tartans, and Irish lace, though Government Street is also a great street to try for First Nations handcrafts such as art and jewelry and a variety of other things 'Canadian'. Head to the part of Government Street situated between Johnson and Humboldt Street for the best shopping.
Trounce Alley
Just of Government Street is the compact Trounce Alley – this is a great place to come if you're looking for more boutique style stores with European fashions and gift shops.
Fort Street
Crossing Government Street you'll find Fort Street, nicknamed 'Antique Row' because of its many antique style shops selling many items of British origin. You'll also find art galleries and auction houses here too.
Chinatown
Chinatown is a great area for wondering around and soaking up the ambiance and smells of great Chinese food cooking! There are a variety of shops here selling all things Chinese and even if you're not buying you can still enjoy the buildings, many of which date back to the 19th century. This is Canada's oldest Chinatown after all!
Old Town
Old Town, as the name suggests, is the oldest part of Victoria and was developed between the 1860's and 1890's. Old Town incorporates many of the streets mentioned above as well as Market Square where you'll find a historic public square and market, surrounded by heritage shop fronts.
Shopping Malls in Victoria
In addition to the quaint and somewhat quirky stores you'll find in the older parts of Victoria there are also a number of more modern shopping malls in the city, for a quite different shopping experience!
The Bay Centre
The Bay Centre

#2 – 1150 Douglas Street
Victoria, B.C.
250-952-5680
Formerly called the Eaton Centre, the Bay Centre has a great central position in Downtown Victoria. You'll find a good selection of stores here from ladies fashion, such as La Senza and Esprit, other fashion stores, including Sport Chek and Guess, the popular The Bay department store, as well as many other stores including Sunglass Hut, Body Shop and more, plus places for a drink and a bite to eat.
Mayfair Shopping Centre
Mayfair Shopping Centre

3147 Douglas Street
Victoria, B.C.
250-383-0541
North of Downtown Victoria is the Mayfair Shopping Centre. There are over 120 retailers here including The Bay, HMV, Toys 'R' Us, Foot Locker and many more. Mayfair Shopping Centre also has quite a selection of places to eat and drink including Subway, KFC, Starbucks and Arby's.