Science World and Omnimax Theatre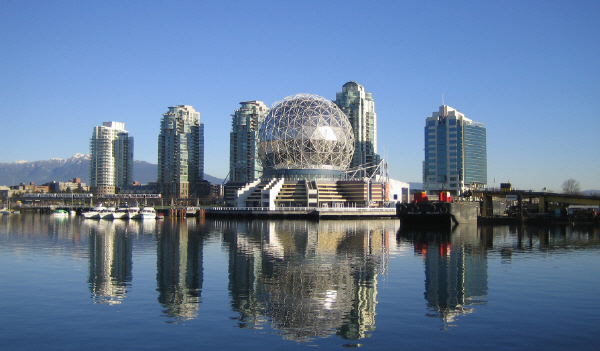 Where is Science World & the OMNIMAX Theatre?
Science World and the OMNIMAX Theatre are located at 1455 Quebec Street, south of Chinatown and on the eastern end of False Creek.
You can get here very easily from central downtown on the SkyTrain; just get off at the Main Street/Science World station.
Science World is easily recognizable as it's situated within the giant silver golf ball (in fact it's a geodesic dome!) which you can see from various points around the city.
What is Science World & the OMNIMAX Theatre?
Science World
Science World is a modern day museum of science, technology and natural history which can be explored through hands-on exhibits and is really popular with kids of all ages, as well as adults.
There are six permanent Galleries:
BodyWorks reveals answers to questions about the human body and includes open discussion on childbirth, sexuality and nudity.
Eureka allows you to explore the science of water, air, light, sound, motion and machines.
Illusions is a fun look at optical illusions and effects.
Kidspace is designed for younger children aged 2 to 6, where they can interact, learn and play using water, light, color and movement.
Our World is a gallery for all ages which looks at the way I which we operate in a sustainable society and how we can find solutions and makes changes for a better future.
Search takes you inside nature in a way you will never have experienced before! Here you can crawl through a real beavers lodge, enter an 800 year old Western Red Cedar and look inside a working bee hive.
Science World also has temporary Feature Exhibitions, plus various showings of short films at the Science Theatre which are included free in your admission ticket.
The OMNIMAX Theatre
The OMNIMAX Theater gives viewers the ultimate large screen experience with showings of stunning documentary movies such as Grand Canyon Adventure, Australia: Land Beyond Our Time, and The Alps. Admission to the OMNIMAX Theatre is additional and not included in your Science World entrance ticket.
OMNIMAX Theatre

1455 Quebec Street
V6A 3Z7
Vancouver, B.C.
604-443-7443