Gastown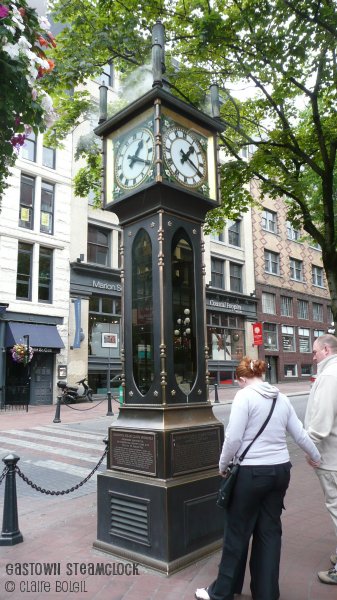 Where is Gastown?
Gastown is at the northeastern edge of Downtown Vancouver, with the main street being Water Street. It is north of Chinatown and about 5 minutes walk east of the main Waterfront and Canada Place.
Why 'Gastown'?
The name 'Gastown' doesn't have anything to do with gas, but is actually named after a Yorkshireman, Jack Deighton. Jack was a very talkative man, giving him the nickname 'Gassy' and when he set foot on this piece of land which is now Vancouver, there wasn't much here. He opened a pub and so started the development of Vancouver's original downtown center. Following his pub, many other buildings sprung up though unfortunately the original Gastown was destroyed by the Great Vancouver Fire of 1886, so none of the original buildings survive. However, the area was quickly re-built and continued to thrive.
Following the Great Depression in the 1930's, Gastown fell into decline and became a poor and very unsavory place to visit. It was going to be bulldozed until a group of local history lovers campaigned for it to be saved. The City agreed, and a program of restoration began, making Gastown what it is today.
Gastown Attractions
Despite originally being destroyed by fire, the second wave of buildings to be built in Gastown are still the city's oldest, making this the most historical district in Vancouver. If you're not here for an evening of dining and drinking, you can still enjoy Gastown by day (see our Bars and Pubs in Vancouver page in the Entertainment section for more info on Gastown's drinking places). There are a number of touristy shops, packed with Vancouver souvenirs, but Gastown is also developing a higher class feel with a number of designer stores and arty boutiques. The fact that Gastown is also popular with the locals goes to show that this is more than just a tourist trap. It's a pleasant place to just stroll around, or, head for some of the following highlights…
Gastown Highlights
Statue of 'Gassy' Jack
Raise a glass to the district's namesake! This bronze statue of Gassy Jack Deighton stands in Maple Tree Square which is reputed to be the location of the first pub he opened.
Gastown Steam Clock
The steam clock is where many visitors head and is a bit of fun more than anything else, adding to the historic feel of Gastown's cobbled streets. In all honesty, the clock is not actually very historic, having been built in 1977 to resemble Big Ben in London, England. But it is the only one of its kind in the world and it bellows steams and whistles a tune every fifteen minutes. Located on the corner of Water and Cambie Streets.
Vancouver Police Centennial Museum
The Vancouver Police Centennial Museum is very good but small museum which concentrates on the seedier side of Vancouver and its crime. Maybe a good place to visit if you get caught in a rain shower!
Vancouver Police Centennial Museum

240 E Cordova Street.
V2Y 2N3
Vancouver, B.C.
604-665-3346