Vancouver Aquarium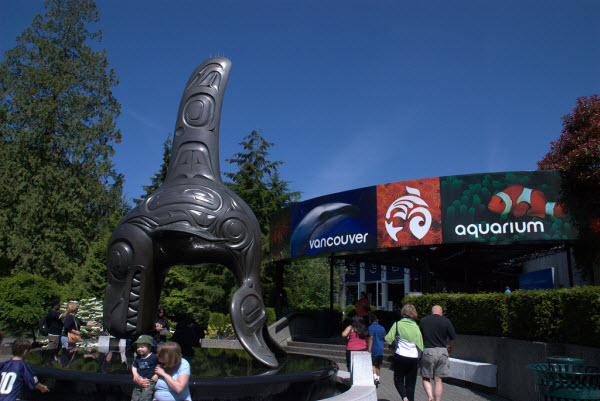 Vancouver Aquarium

845 Avison Way
Vancouver, B.C.
604-659-3474
Where is Vancouver Aquarium?
The Vancouver Aquarium is nestled within the trees of the great Stanley Park and is easily accessible by foot or by car. If you're walking from Downtown Vancouver it's a fairly long but manageable walk for most able-bodied people and once you enter Stanley Park there are signs you can follow to the Aquarium. If you're coming by car you can also follow the signs once you're in Stanley Park, but be aware of the many 'one-way' roads. Also, please note that you will have to pay to park your car near the Aquarium or anywhere else within Stanley Park.
Vancouver Aquarium Attractions
The Vancouver Aquarium was opened to the public in 1956, becoming Canada's first public aquarium and after years of expansion it is now the largest in Canada and one of the top five largest in the whole of North America. The Vancouver Aquarium is in fact recognized as one of the best aquariums in the world, so is definitely worth visiting when you're in Vancouver.
The Vancouver Aquarium is not just a place where you can view marine life, it's a center for research and conservation too which is the reason why this aquarium is so highly regarded.
There are many attractions to see and experience at the Vancouver Aquarium; below are some of the best highlights of a visit.
Vancouver Aquarium Highlights
The Beluga Whales
Belugas are beautiful, gentle-looking whales and there are now five at the Vancouver Aquarium as a new baby calf was born in June 2008. There are Beluga Whale shows during which you can find out more about these friendly mammals who usually inhabit the Arctic.
Pacific White-Sided Dolphins
The dolphins are also a favorite at the Vancouver Aquarium! You can watch them swimming around and having fun or you can see one of the several shows which take place throughout the day. These include training sessions where you can find out how the dolphins are trained.
Sea Otters
The Sea Otters are very cute and always a crowd pleaser! They have a habitat where you can watch them swimming around from above or below the water and there are also Sea Otter Talks here at the Vancouver Aquarium which give you a great insight into these animals.
Sea Lions
The Sea Lions often bring a laugh or two and you can watch them swimming about and playing in their habitat too.
Indoor Exhibitions
Indoors there are many features too and some great opportunities to see many different species of marine life up close. Highlights include the Tropic Zone where you'll find many brightly colored and strange looking fish! The Exploration Gallery with hands-on interaction. The Shark aquarium where you can watch sharks swim right past you! And there's also the Amazon Rain Forest where you have butterflies flying around you and interesting birds and animals.
Clownfish Cove
This is a fun area dedicated to children up to 8 years old where they can interact, play, and learn about fish and animals whilst being encouraged to be responsible in terms of conservation.
To find out more about the Vancouver Aquarium, including opening hours, admission prices, daily events and more, please visit the Vancouver Aquarium website.