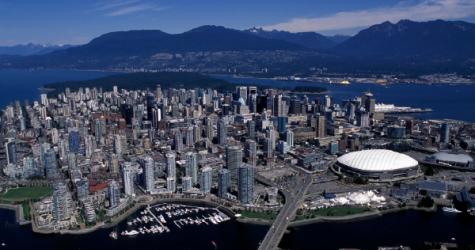 There seems to be some debate over what area is actually "Downtown Vancouver": for some it includes the whole of the peninsula reaching out to Stanley Park, though for others it's just a smaller strip within that peninsula. For the purpose of this website, we're going with the whole of the peninsula, and then splitting it into the following smaller parts:
City Center and Yaletown
The heart of Downtown Vancouver is the City Center where you'll find shopping, entertainment and attractions, including Canada Place, Vancouver Art Gallery and the Lookout, whilst Yaletown's chic boutiques and historic streets are increasingly popular with tourists too.
Vancouver's oldest district is Gastown, where tourists flock to see the famous Steam Clock and enjoy the areas bars, restaurants and galleries.
North America's second largest Chinatown lures tourists in to see the beautiful Dr Sun Yat-Sen Gardens, then keeps them here with the promise of exquisite dim sum and some excellent Asian shopping!
The West End is mainly a residential district of Vancouver, set between the City Center and Stanley Park. It's also home to the largest concentration of gay people in Western Canada, though it's the beaches and historic buildings which attract most people here, including the famous English Bay Beach.
Another historic area of Downtown Vancouver, Granville Island has developed from an Industrial Island into one of Vancouver's most popular visitor attractions. You can now enjoy the Public Market, shopping, entertainment, dining, Granville Island Brewery, and more!