Vancouver Lookout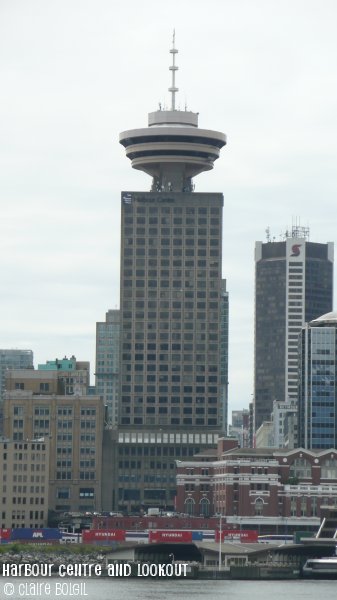 Where is Vancouver Lookout?
The Vancouver Lookout is in Downtown Vancouver and is situated at the top of the Harbour Centre building on West Hastings Street, near Canada Place and the Waterfront. You can reach the Vancouver Lookout by the SkyTrain; get off at the Waterfront station and from there it's a very short walk.
Vancouver Lookout Attractions
The Vancouver Lookout is one of the tallest buildings in Vancouver and hence the views from up here are great! The top of the tower stands 177 meters (581 feet) high and the observation deck itself is at a height of 130 meters (430 feet).
The Lookout was officially opened by Astronaut Neil Armstrong in 1977 and has been a popular attraction ever since. It may not be the tallest tower in Canada, but it can claim to have possibly the best views in the country!
Vancouver Lookout Highlights
The Glass Elevators
The first highlight of the Vancouver Lookout has to be getting to the observation deck! The journey is taken in one of two glass elevators which take you up in a rapid 40 seconds and allow your views of the city to begin immediately.
Guided Tours
Once at the observation deck you can choose to wonder around in your own time, or if you'd like to know more about all the buildings and views which you're enjoying you can choose to have a complimentary guided tour. Tours are available in English as well as a variety of other languages.
Historic Photos
Also on the observation deck you can look at the historic photo panels which are really interesting as they show you just how much the views have changed over the years.
All Day Tickets
The great thing about a visit to the Vancouver Lookout is that your ticket is valid all day and you can go up as many times as you like. This means you can visit at different times of the day to see the changing light, and how about watching a famous Vancouver sunset from up here?! The Vancouver Lookout is open late into the evening so there's plenty of opportunity to come back for more.
Armstrong Gallery
Named after Neil Armstrong, this art gallery features the work of local artists which changes every month. There are some fantastic pieces here and they are all available for sale too.
Top of Vancouver Revolving Restaurant
For a really unforgettable dining experience, try the Top of Vancouver Revolving Restaurant. Situated at a height of 167 meters (553 feet), the restaurant makes one full rotation every 60 minutes, so you can take time enjoying your meal as the view changes around you. For further information on opening hours and menus, please visit the Top of Vancouver Restaurant Website.
To find out opening hours, ticket prices and more, visit the Vancouver Lookout Website.
Vancouver Lookout

The Harbour Centre Building, 555 West Hastings Street
V6B 4N6
Vancouver, B.C.
604-689-0421