Granville Island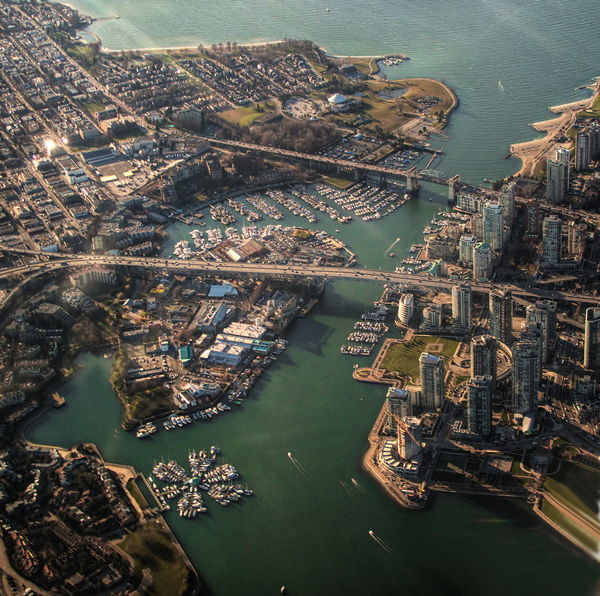 Granville Island is another of Vancouver's transformed historical districts, having gone from run-down and disused Industrial Island to one of the city's most popular attractions. It is said that Granville Island is actually one of North America's most successful urban redevelopment projects, and if you have an afternoon or more to spare, you should visit and find out why.
Where is Granville Island?
Granville Island is across False Creek from the City Center and Yaletown. It's not actually an island as it's connected to the mainland, but it is a peninsula with water on all four sides. If you're traveling on foot you can catch a mini-ferry with either Aquabus or False Creek Ferries. Further information on both services can be found on our Getting Around Vancouver by Boat page . Granville Island can also be reached by transit bus 50.
Granville Island Attractions
Even if you don't intend to visit any of the Granville Island Highlights listed below, you'll find that Granville Island is a great place for spending a morning or afternoon simply strolling around and enjoying the ambiance of the place. It's very arty here, from the gallery style arts and crafts shops to the studios which line the pedestrian streets. You can also enjoy a great meal or how about some beer tasting at the Granville Island Brewery?!
Granville Island Highlights
Granville Island Public Market
 The Public Market was the pioneer for the new Granville Island; opening in 1979 it was an instant success. Even if you're not here to buy anything, the Public Market is a great place to rub shoulders with the locals, enjoy lunch and listen to the buskers. If you do want to shop you'll find some wonderful foods here in the main – from cheeses, to fish, to baked goods, plus a handful of arts and crafts stalls too.
Kids Market
If you're traveling with children you may just have your arm twisted to visit the Granville Island Kids Market! Not so much a market as a mini-mall, it's directed at under 10's and features a multitude of kid-friendly stores. As would be expected, most stores are full of toys, but there are others too, including clothes and candy!
Model Trains Museum and Model Ships Museum
These museums are under one roof and you buy a dual ticket which covers the entrance to both of them. Children, and many adults too, will no doubt find the Model Trains Museum to be the more exciting of the two; especially with the huge BC railway layout! The Model Trains Museum actually houses one of the biggest toy locomotive collections in the world. The Model Ships Museum is still an interesting look at various sea-going vessels, including submarines.
Downtown Historic Railway
If the Model Trains Museum whet your appetite for more trains, try the Downtown Historic Railway! This is a restored street car which used to run on Vancouver's tramcar system and operates the 15 minute journey from Granville Island to the Science Museum every half hour from 12.30pm to 4.30pm on weekends and holidays (between mid-May to mid-October). The journey is very affordable and lots of fun, made more appealing by the fact that it's run by volunteers who used to work on the original streetcar service!
Granville Island Brewing
Granville Island Brewing is the oldest micro-brewery in Canada and you take half hour tours of this small facility. Although still in operation here on Granville Island, the company out-grew these premises some years ago and main production now takes place elsewhere in Vancouver. The tour ends in the taproom where you have the chance to sample some of the Granville Island Brewing beers and lagers, many of which have familiar names like Gastown Amber Ale or Kitsilano Maple Cream Ale!
Emily Carr Institute of Art & Design
This is actually a school, named after the famous BC historic painter Emily Carr. Free exhibits are on display in the three galleries here: two of which provide an opportunity to see the work of the students and the third (the Charles H. Scott Gallery) has the work of professional artists.
For further information on all the attractions and events on Granville Island, visit the Granville Island Website.