Vancouver Art Gallery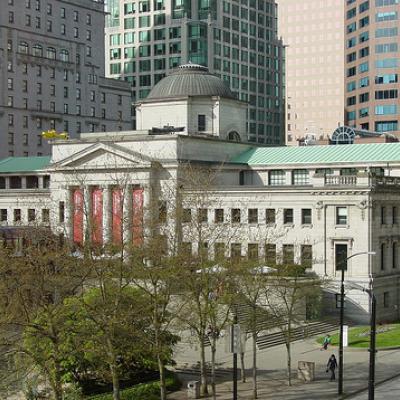 Vancouver Art Gallery

750 Hornby Street
Vancouver, B.C.
604-662-4719
Where is the Vancouver Art Gallery?
The Vancouver Art Gallery is in Downtown Vancouver, located on Hornby Street in the former provincial courthouse. The Gallery is within walking distance of all the major downtown attractions or a few minutes walk from the nearest SkyTrain station, Burrard.
If you're coming to the Vancouver Art Gallery by car, the Gallery itself does not have public parking but there are many places nearby where you can park for a fee. Your best bet is to use one of the parkades as the rates are better here – Robson Square Complex (enter from Howe Street), Hotel Vancouver Parkade (enter from Hornby Street) and Pacific Centre Mall parkade (enter from Howe Street).
Vancouver Art Gallery Attractions
The Vancouver Art Gallery is currently situated within the former provincial courthouse, an imposing and impressive building in the neo-classical style which was originally built in 1906. The building was extensively refurbished ready for the Vancouver Art Gallery to move there from its first building in 1983. There are now plans for the Gallery to move again though, so watch this space!
The Vancouver Art Gallery is very large, it is in fact the 5th largest art gallery in Canada. There are nearly 9,000 items in the permanent collections which have been built up since the Gallery was first established in 1931. There are many pieces by Canadian artist Emily Carr, which you can read more about below.
Vancouver Art Gallery Highlights
Permanent Collection
Nearly 9,000 works make up Vancouver Art Gallery's permanent collection. This includes the largest collection of works by the renowned modernist landscape painter Emily Carr. Also of importance is the Gallery's collection of contemporary photo-based works – one of the most significant collections in North America.
The Exhibitions
In addition to the permanent collection, the Vancouver Art Gallery always has temporary exhibitions of works too. These change throughout the year and can be very varied in nature. For further information on the current, and upcoming, exhibitions, please check the Vancouver Art Gallery website.
Tours, Store & Café
Tours of the Vancouver Art Gallery are offered and are free with your paid Gallery admission. Tours are an excellent way to see the best highlights of the Gallery and also offer a chance to find out more about the pieces on display. Once you've enjoyed the collections you can browse the Gallery Store which has a good range of art related items for sale, and enjoy a bite to eat in the Gallery Café which has a quite extensive menu and a great outdoor patio.
To find out more about the Vancouver Art Gallery, including opening hours, admission prices, and exhibitions, please visit the Vancouver Art Gallery Website.