Biking, In-Line Skating, Running and Jogging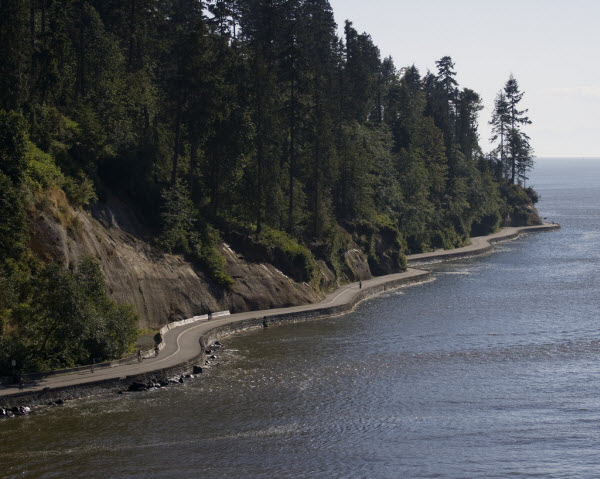 We've grouped together the activities of Biking, In-Line Skating, Running and Jogging, because often these are all available at the same places in and around Vancouver. Where you decide to go really depends on your preferences as there are so many options. You'll find a few suggestions below…
Stanley Park
Stanley Park is the place which immediately springs to mind for many visitors to Vancouver, and definitely this is the top of many resident's choices too. The fact that you can do all of these activities along Stanley Park's famous Seawall is a real bonus – you get to enjoy the great views all around you whilst using a well maintained path.
The Seawall
The Seawall is 5.5 miles (8.8km) long and circumnavigates the whole of Stanley Park. There are various access points, so you don't have to attempt the whole 5.5 miles in one go if you're not feeling up to it! Do be aware though, that the Seawall is one way, so don't try to join at one point and go against the traffic as you may have some angry people on your hands! Everyone shares the path, so although this works well, at busy times some sections can get a little too busy and hence the Seawall may not be the experience which all visitors are looking for.
The Seawall is great for cycling, in-line skating (blading), cycling, walking, jogging and running.
Internal Trails
There are also many internal trails, criss-crossing Stanley Park. These are suitable for either bicycles or on foot, or they may be designated for both. In total there are around 17 miles (27km) of internal trails. These are a great choice for visitors who want a little more peace and quiet and to be able to enjoy more of the nature and wildlife found within Stanley Park. On warm days, the large trees provide some shelter and make this a cooler and pleasant place to cycle, walk or run.
You can find out about all the trails within Stanley Park on the Vancouver Park Board website, or follow this link to go straight to the Stanley Park Trails and Overview Map.
Bicycling
Vancouver is a great city for cycling, whether you use Stanley Park or not. There are many bicycle routes around the city and Stanley Park actually links up with several of these so if you're looking for a longer trek you can follow cycle paths for miles around Vancouver's coastline. There are in fact almost 150 miles (240km) of designated cycle routes around the city, so more than enough to keep even the most active of visitor happy!
The City of Vancouver produces a city map with all the cycle trails detailed. You can download the map here. Alternatively, if you're planning on cycling outside of the City of Vancouver there are also maps which cover Greater Vancouver too. Download from the Translink website, or you can buy a copy at many convenience stores or bookshops. It's titled Greater Vancouver Cycling Map & Guide and costs $3.95.
Mountain Biking
For a little less sedate pace of cycling try some mountain biking! Mountain biking is becoming more and more popular in Vancouver and the rest of Canada, and as the popularity increases, more spaces are opened up specifically for mountain bikers to use and enjoy.
Vancouver's North Shore is said to have some of the best mountain biking in the world. The three major areas you can head to for extensive trails are at Cypress Mountain, Mount Seymour and Mount Fromme. Remember that Cypress Mountain and Mount Seymour are Provincial Parks so you must keep to the designated trails or face heavy fines.
The North Shore Mountain Bike Association website is an excellent resource for newcomers to North Shore mountain biking, and a great place to look for further information.
Bicycle Rentals
Due to the popularity of cycling in Vancouver it's no surprise that there are a number of specialist bicycle rental stores around the city, great for vacationers who didn't have room to pack their own bike!
Reckless Bike Stores are probably the most famous of the Vancouver stores (though they do also have a store in Victoria too!). Reckless Bike Stores started life in 1986 and as well as renting bikes they also sell and service bikes, and are very much involved in the local community – sponsoring events and more.
Reckless Bike Stores have a great selection of bicycles for rental, so whatever you need they should have it – from hybrids, cruisers, tandems, kids bikes and mountain bikes. Each rental also includes a helmet (mandatory in BC!), a lock, bell, backpack, water bottle cage and a city bike route map. Additional accessories are also available for an extra charge.
You can find Reckless Bike Stores at one these two locations and on the Rektek website:
Fir Street Location-near the entrance to Granville Island

1810 Fir Street, Vancouver
Vancouver, B.C.
604-731-2420
Davie Street Location-Across from Urban Fare

110 Davie Street, Vancouver
Vancouver, B.C.
604-648-2600
Other bicycle rental stores in Vancouver include: Denman Bike Shop, Bayshore Bike Rentals and Spokes Bicycle Rentals