Hiking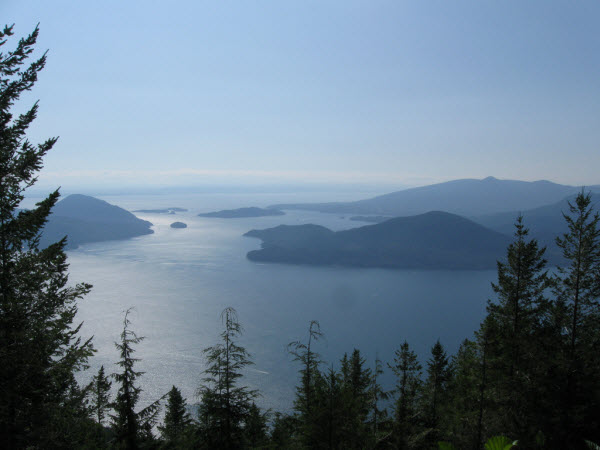 With so much natural beauty around Vancouver it's no wonder that hiking is such a popular pastime for both residents and visitors.
In Vancouver itself there are opportunities for light hiking, though just outside the City of Vancouver there are numerous scenic places which are great for hiking. Here are some suggestions for where you can go hiking in Vancouver.
The Grouse Grind
Anyone who enjoys a brisk uphill hike will love the Grouse Grind at Grouse Mountain, which has to be tried at least once during your visit to Vancouver!
Rather than taking the Skyride, hike up to the summit. For locals who are used to the hike it takes about 90 minutes though there are those who do it even quicker and you can see times posted for the really serious hikers who have paid for the special electronic timers.
Grouse Mountain

6400 Nancy Greene Way
Vancouver, B.C.
604-980-9311
The most popular provincial parks for hikers are Mount Seymour Provincial Park and Cypress Provincial Park.
Mount Seymour Provincial Park
Mount Seymour is said to be the locals' favorite choice for hiking, and when you see the views of the city and into Indian Arm Provincial Park you'll soon agree!
There are various hiking opportunities here, ranging from gentle paths for light hikes to intense mountain side backcountry hikes for the more experienced. Only experienced backcountry hikers are advised to attempt these routes as the terrain is hazardous and the weather can change drastically from one minute to the next. Make sure you're prepared with a change of clothing, rain gear and extra layers and advise somebody as to where you are planning to hike.
There are a total of 14 hiking trails at Mount Seymour Provincial Park and trail maps are available at the information board at the kilometer 0 parking Lot which is near the park's entrance, as well as at the north end of Parking Lot 4 and the Baden-Powell Parking Lot. You can also find further information on these hikes on the BC Parks website. Also during the winter there are usually several hiking trails in the backcountry which you can do on cross country skis or snowshoes.
Be advised that drinking water is not available within the Park so you must ensure that you bring plenty of drinking water with you.
Cypress Provincial Park
Almost equally as popular as Mount Seymour, Cypress Provincial Park enjoys the most stunning views looking at the other end of the city of Vancouver and out into the Georgia Street, the Gulf Islands and Vancouver Island.
The hiking trails in Cypress Provincial Park range from easy to challenging and include the 1.25 mile (2km) loop of the Yew Lake Trail. This is a self-guided interpretive trail which should take about an hour so should be a good one for families with children to try. Longer hikes include the 18+ miles (29km) one way hike on the Howe Sound Crest Trail.
If you're here during the winter and fancy a hike, Cypress Provincial Park also has three marked winter trails of 1.9 miles (3km), 3 miles (5km) and 4 miles (7km).
Find out more about all the hiking trails on the BC Parks website.
Other Hiking Opportunities Around Vancouver
Here are some suggestions for a few other places you can hike around the Vancouver area:
Pacific Spirit Regional Park
The city's largest park, next to the University of British Columbia lands, has over 33 miles (54km) of trails for hiking and cycling, and some stunning views.
See our UBC page for more information on Pacific Spirit Regional Park or Visit the Pacific Spirit Park Society Website for more information.
Lighthouse Park
For a good sample of hiking trails which give you both shoreline and woodlands, try Lighthouse Park in West Vancouver which has about a dozen hiking trails.
Our Lighthouse Park page has further information on the trails and other things you can see and do at Lighthouse Park or visit the District of West Vancouver website for more information.
Whytecliff Park
Also in West Vancouver is Whytecliff Park. The scenic hiking trails here are again more gentle then those you will find in the Provincial Parks but this makes them great for families to try whilst enjoying the wonderful natural scenery and wildlife of the area.
Visit the District of West Vancouver website for further information on Whytecliff Park.