Swimming and Vancouver Beaches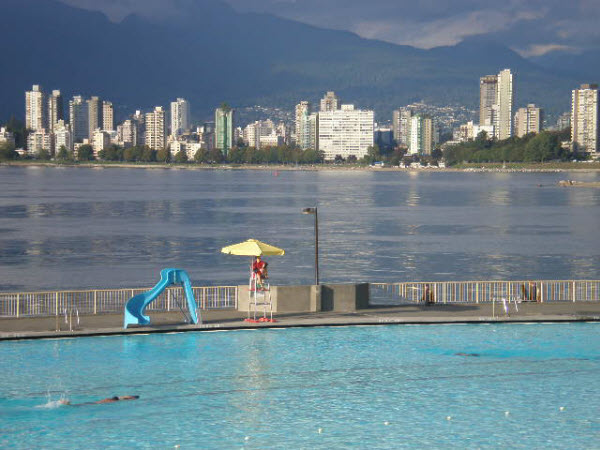 When you think of a city beaches aren't usually the first thing to spring to mind, yet here in Vancouver you'll find some of Canada's most popular beaches, right near the city center!
If you're particularly looking for a beach good for swimming off, there are ten around Vancouver though the most popular (or maybe the best!) are Kitsilano Beach, English Bay Beach, Second Beach and Third Beach.
Kitsilano Beach
The hugely popular Kitsilano Beach seems to attract the whole of Vancouver on a hot and sunny day, so if crowds aren't your thing you may be better heading elsewhere! If you can brave the crowds and can find a spot to set up on the sandy beach, this is a great place to do so. There's always lots going on on Kits Beach, so you can join in the numerous beach sports yourself or just sit and watch, and have some fun doing so!
Kitsilano Pool
If you're visiting Kitsilano for more of a swimming work-out you may prefer Kitsilano Pool. This is one of the world's largest outdoor salt water pools and the longest in Canada, measuring a huge 137 meters long! As an added bonus the pool is heated; a good attraction for those who find Vancouver's waters a little on the cold side!
The Vancouver Park Board website has further information on Kitsilano Pool.
Kitsilano Pool

2305 Cornwall Avenue
Vancouver, B.C.
604-731-0011
Second Beach
Second Beach in on the western side of Stanley Park near the entrance to the park and is a favorite with Vancouver's families due to the range of activities available here for children. In addition to the family-friendly beach there is also a nearby large grassy playing area and playground, a café / snack bar which also serves the all important ice creams, and Stanley Park Pitch and Putt is very close by too.
Second Beach Pool
Like Kitsilano Beach, Second Beach is also complimented by an outdoor pool, though this one is dwarfed by the size of Kits Pool, at a more normal 50 meters long! Second Beach Pool is just as popular though, especially during the summer – the water slide in particular sees constant usage!
Second Beach Pool

Stanley Park Drive
Vancouver, B.C.
604-257-8371
Third Beach
Another great Vancouver Beach and perhaps a better choice for those visitors who do not have young children and families to think about is Third Beach.
Third Beach is a little further north around the coast of Stanley Park and as well as having a large sandy beach it features some of the best sunsets in Vancouver! On summer evenings do as the locals do and bring down a barbecue to enjoy your dinner whilst watching the sun go down.
English Bay Beach
Just outside the western edge of Stanley Park is one of Vancouver's most famous beaches, English Bay Beach, in the West End neighborhood.
English Bay Beach, as the name suggests, looks out into English Bay and is popular with residents and visitors alike due to its proximity to all the city center action. The beach is sandy and long, connecting up with the neighboring Sunset Beach and around the end of July each year it becomes the center of attention for the HSBC Celebration of Light pyro-musical fireworks competition.
Vancouver Aquatic Centre
If you're finding English Bay Beach a little too windy for swimming, head to the Vancouver Aquatic Centre, next to nearby Sunset Beach and beside the Burrard Bridge. Unlike the other swimming pools mentioned so far, the Vancouver Aquatic Centre is indoor and features a 50 meter swimming pool as well as a diving tank, sauna and whirlpool plus a gym.
Vancouver Aquatic Centre

1050 Beach Avenue
V6E 1T7
Vancouver, B.C.
604-665-3424