Wildlife and Marine Sightseeing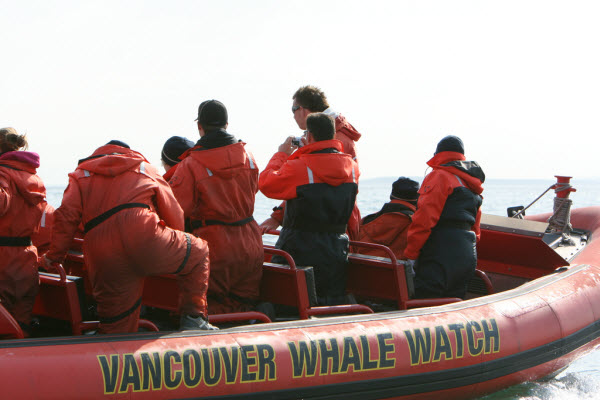 Off the shores of British Columbia are some of the best opportunities in the world to see marine life, including spectacular Killer Whales, plus some amazing wildlife too.
Victoria is perhaps better known for its whale watching excursion companies, though visitors to Vancouver do also have ample opportunity for whale and marine and wildlife watching out of the Vancouver area also.
Below you'll find information which should help you to plan an excursion with a list of some of the companies offering these great services.
The Seasons
As you can probably appreciate, the wildlife and marine life which you'll see on excursions does vary with the time of the year, so you'll need to bear this in mind when arranging an excursion.
Whale watching season is usually roughly between the months of April and October, though this period may vary slightly between the companies. During the rest of the year, excursions are offered though visitors should be aware that whales are not generally seen in these waters at other times of the year.
What Marine Life Will You See?
Depending on the time of year you may be lucky enough to see Orca (or Killer) Whales, Sea Lions, Seals, Dall's Porpoises, Otters and a variety of seabirds. Occasionally you might be very lucky to spot dolphins, Minke and Humpback Whales.
What Land Based Wildlife Will You See?
This can really vary with which kind of tour you choose and how close to land you are. Spotting bald eagles is quite common on several of the tours, and you will usually see a variety of other birds too who live near the water such as herons, cormorants, tufted puffins, snowgeese, ducks and swans.
Keep your eyes peeled on the shorelines, as you may be able to spot a black bear or a deer at the water's edge!
What Kind of Boat Do You Travel In?
Again this really does depend on the type of tour you choose and the company you choose to go with. Some companies offer several different kinds of boats, whilst others may specialize in one kind. It comes down to personal preference, but your choices may include a fully covered vessel, a semi-covered vessel or a completely uncovered, open air vessel for a more exciting though basic experience! Some companies can even take visitors on tours in kayaks!
Who Are the Wildlife & Marine Sightseeing Companies Operating Out of Vancouver?
As mentioned there are several companies operating out of Vancouver and the Greater Vancouver area. These include:
Sewell's Marina
Sewell's Marina is in Horseshoe Bay, a little way north of the city of Vancouver, at the beginning of the Sea to Sky Highway.
Sewell's are a little different to some of the other companies as they offer several tours and other services.
Sewell's Sea Safari is a two hour long eco-tour which departs three times a day between April and October. The tour is taken in a 28 foot, high speed rigid hull inflatable and takes visitors up the beautiful Howe Sound and nips into the Strait of Georgia on the way back to Horseshoe Bay for some great views of Vancouver.
Sewell's also offer a special tour called the Sea Quest which is suitable for groups, corporate events, team building days and the like, as well as offering fishing charters and boat rentals. The Sewell's Marina website has all the information you'll need regarding their tours, prices and more.
Wild Whales Vancouver
Wild Whales Vancouver has the benefit of being the closest whale watching excursion company to Downtown Vancouver. Being located on Granville Island will be of great benefit to many visitors who are perhaps pushed for time.
Wild Whales Vancouver operates just one departure per day and depending on success of finding whales your trip could be anywhere between 3 and 7 hours. There are two types of boat on offer – a 39 foot open vessel or a 40 foot glass domed vessel. Find out more details about the boats and the tours offered on the Wild Whales Vancouver website.
Vancouver Whale Watch
Vancouver Whale Watch are based out of Steveston in Greater Vancouver, south of the city. They offer whale watching tours of between 3 and 5 hours from April to October and reckon on a 90% whale sighting success rate! Of additional interest is the Vancouver Whale Watch guarantee which states that if you don't get to see whales on your trip you can come again for free until you do!
Vancouver Whale Watch also offers Sea Lion Tours between March and May. This is a 2 hour trip up the Fraser River Estuary to see both Steller and California Sea Lions. Also between June and September are Nature and Historical Tours – a 45 minute cruise up the historic Cannery Channel and around Steveston.
The Vancouver Whale Watch website has further details of all these tours, plus more.
Other Wildlife & Marine Sightseeing Companies