Golf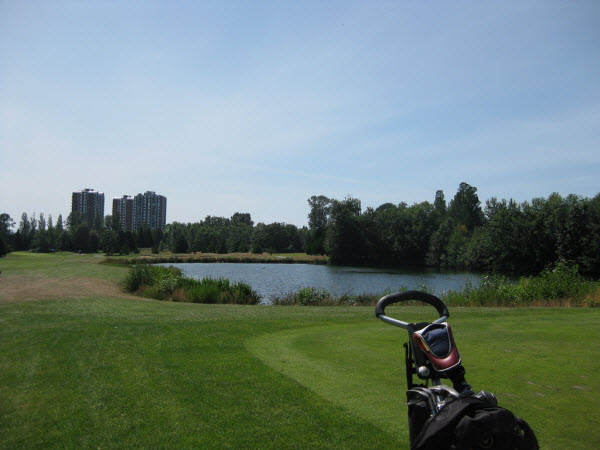 Another popular activity in Vancouver is Golf, and when you consider the year-round mild climate it means that golf can usually be enjoyed at any time of the year.
There's an excellent choice of golf courses in Vancouver and Greater Vancouver, including both public and private ones. We're focusing more on the public ones as some private courses may be more difficult to play if you're not with a member, so listed below are the six public golf courses in Vancouver.
Fraserview Golf Course
Course Length: 6,700 yards
Par: 72
Fraserview is regularly rated as one of the best public golf courses in Canada, so you can see why this is considered to be Vancouver's best public golf course! In a great setting, Fraserview (as the name suggests) overlooks the Fraser River and has some great views. The course features a one and a half acre pond, stream openings and a creek to cross. There is a driving range and Fraserview is open year round.
If you're coming by public transport, take the SkyTrain to 29th Avenue Station and then Bus # 29.
Gleneagles Golf Course
Course Length: 2,800 yards
Par: 35
Gleneagles Golf Course is on the North Shore in West Vancouver, near the beautiful village of Horseshoe Bay, so has a spectacular setting.
There may only be nine holes here but they are challenging and popular – in busy periods you should expect a long wait as tee offs are on a first come first served basis, however you can call ahead to get an estimate of the waiting times before setting out.
If you couldn't fit your clubs in your baggage, don't worry as the golf shop here at Gleneagles Golf Course does rent golf clubs as well as pull carts and power carts.
To get to Gleneagles Golf Course by Transit, take bus # 250.
Langara Golf Course
Course Length: 6,085 yards
Par: 71
Langara Golf Course is another of Vancouver's favorite public golf courses and has a history dating back to 1926 when the course was first constructed by the Canadian Pacific Railway.
Langara Golf Course is quite close to Downtown Vancouver and easy to get to, so this makes it a popular choice for visitors to the city. Bus #15 is the best bus to take if you're coming by Transit.
The course is challenging, partly on account of the narrow and tree-lined fairways, but you can always do some practicing before starting as there is a practice net and a large putting green here also!
McCleery Golf Course
Course Length: 6,265 yards
Par: 71
McCleery Golf Course is in south west Vancouver on the banks of the Fraser River. This 18 hole golf course offers a target-style challenge through its narrow and tree-lined fairways. There are also many water hazards and deceptively sloping fairways at McCleery Golf Course.
Golfers can practice first on the driving range and practice putting greens or take advantage of a team of instructors if you want to improve your game.
Northlands Golf Course
Course Length: 6,504 yards
Par: 71
Located in North Vancouver, Northlands Golf Course is situated on a forested mountainside site on Mount Seymour and offers beautiful tree-lined fairways and challenging to difficult holes with its mix of water holes, woodlands, narrow fairways and small greens.
There's also an attractive and popular bar and grill at Northlands Golf Course and a Golf Shop as well as a rentals service.
Northlands Golf Course is about a 20 minute drive from Downtown Vancouver.
University Golf Club
Course Length: 6,601 yards
Par: 72
University Golf Club opened in 1929 on part of the University Endowment Lands with the name Westward Ho! though very shortly afterwards the name University Golf Club stuck with the public.
University Golf Club has been an extremely popular golf course with Vancouverites ever since its opening, and in 1985 the club benefited from a smart new club house and a driving range to increase its appeal. The course is described as fair and challenging with something for every skill level and not too many hazards or water holes.
You can reach the University Golf Club by Transit, bus # 4.