Rock Climbing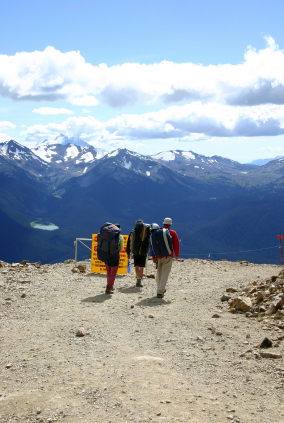 Mountains are abound in the Vancouver area, so it only follows that there should be many opportunities for rock climbing!
If you fancy a quick climb within the City of Vancouver you're restricted to indoor climbing centers (listed below) but if you're looking for a more outdoorsy experience you can find that a little way out of Vancouver at several destinations.
Indoor Climbing Centers
Cliffhanger Vancouver
With several locations in Greater Vancouver, Cliffhanger's new location rock climbing gym is located right near Downtown Vancouver, so is in a great location for visitors.
Cliffhanger Vancouver features over 15,000 square feet or climbing terrain suitable for all levels from novice to expert, with 53 top ropes, crack climbing and lead climbing in addition to bouldering. Cliffhanger calls this the best climbing gym in Canada!
Cliffhanger also has rock climbing gyms in Coquitlam and Richmond. The Vancouver climbing gym is located ten minutes walk from the Main Street SkyTrain station
Cliffhanger Vancouver

670 Industrial Avenue
V6A 2P3
Vancouver, B.C.
604-874-2400
The Edge Climbing Centre
If you're over on Vancouver's North Shore, you may like to visit The Edge – marketed as Canada's most comprehensive climbing gym!
As at the Cliffhanger Vancouver gym there is over 15,000 square feet of climbing surface here at The Edge with suitability for beginners, through novice, to expert. The Edge also offers courses, kids and adults climbing parties and memberships.
The Edge Climbing Centre

#2 – 1485 Welch Street North Vancouver
V7P 1B5
Vancouver, B.C.
604-984-9080
Outdoor Rock Climbing
For those who wish to enjoy the more natural form of rock climbing, head out of Vancouver to a couple of popular destinations to get your climbing fix.
Squamish and the Stawamus Chief
For a real challenge, although it is quite a distance to travel, head out to Squamish up the Sea to Sky Highway (Highway 99), north of Vancouver. The main highlight here is the Stawamus Chief. The Chief itself is a great obstacle to climb – a huge granite massif which has a steep cliff face, though if this is a little more than you had in mind there are over 300 other climbing routes which will take you to the top of, and around, the Stawamus Chief.
If you're heading up Squamish way anyway, you may like to spend a few nights or more in the area as this is a real rock climbers dream – there are said to be over 1200 different rock climbing routes around the Squamish area!
Read more about what you can see and do in this area on our Squamish page.
Juniper Point in Lighthouse Park
Coming back closer to Vancouver, you could try Juniper Point, situated within Lighthouse Park in West Vancouver. The scenery around here is stunning, so this makes for a great rock climbing location amongst coastal forests and more.
You can read more about Lighthouse Park on our Lighthouse Park page.
Deep Cove
Heading east now is the beautiful Deep Cove in North Vancouver. Deep Cove itself is a peaceful and scenic stretch of water at the end of a fjord, with calm and glassy waters – it's an excellent spot for kayaking! (See our Water Sports page for more details on this). But what does this have to do with rock climbing we hear you ask! Well, above Deep Cove there are some great bluffs overlooking the coves and off into Indian Arm, and it's here that you'll find some great rock climbing opportunities.
To find out more about rock climbing in the Vancouver area you can contact the BC Mountaineering Club through the BCMC website or by telephone on 604-268-9502.