Winter Sports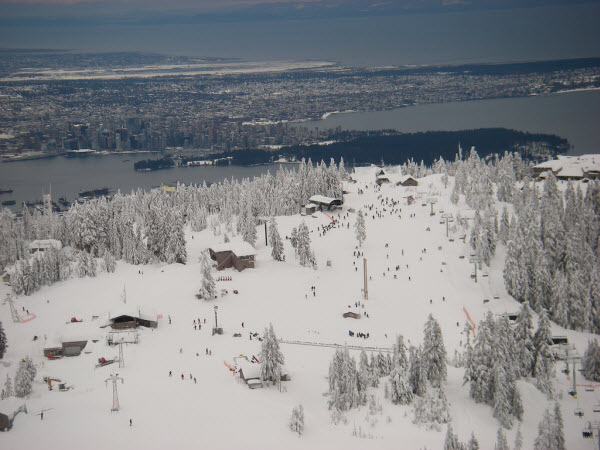 The numerous mountain ranges around Vancouver make this the ideal place for winter sports, and with the relatively mild climate here the temperatures do not get as cold as inland mountain ranges such as the Rockies. This has the advantage of great snow, and milder temperatures!
Skiing and Snowboarding
Obviously nearby Whistler is the most famous skiing destination in the Vancouver region, though this doesn't mean that the mountains closer to Vancouver should be overlooked. Indeed, if you want some good skiing without the horrendous crowds often seen at Whistler, then Vancouver's neighboring mountains will give you far more snow time as you don't have to wait so long in lift lines!
The three areas for skiing and snowboarding in Vancouver are Cypress Mountain, Grouse Mountain and Mount Seymour.
Cypress Mountain
Cypress Provincial Park transforms into a winter playground when the snow falls and Cypress Mountain becomes the center of attention!
Cypress Mountain may not be as well known as neighboring Grouse Mountain but it has been chosen to host the freestyle skiing and snowboarding during the 2010 Vancouver Winter Olympics and this is bound to increase its profile as a great skiing and snowboarding destination.
In fact, Cypress Mountain can actually boast to offering the highest skiing and riding in the North Shore Mountains, with the most terrain, the most lifts, the most vertical drop and the best snow!
There are 52 ski runs and a total of 1,482 acres (600 hectares) of skiable terrain, with 9 lifts to get you there, in addition to 2 terrain parks and freestyle skiing areas. Cypress Mountain also has about 12 miles (19km) of groomed cross country trails, 6 miles (10km) of self guided snowshoe trails and for some great fun, try SnowTubing!
Other facilities at Cypress Mountain include a licensed restaurant and pub and rentals and repair shops, though improvements are going on at Cypress Mountain all the time in preparation for Vancouver 2010.
As an added bonus there is a shuttle coach service running to Cypress Mountain from various points around Vancouver, including Lonsdale Quay, Richmond and Kitsilano.
Cypress Mountain

Vancouver, B.C.
Snow Phone 604-419-S
Grouse Mountain
Grouse Mountain can boast to being Vancouver's favorite winter destination, probably in part due to the fact that it's also the closest to the city!
Although smaller than Cypress Mountain, Grouse Mountain does still offer a total of 26 skiing and snowboarding runs, half of which are also open for nighttime skiing and snowboarding. The magnificent view of Vancouver all lit up at night is enough to make Grouse Mountain appeal to any visitor!
Grouse Mountain also offers three great terrain parks, plus snowshoeing, sleigh rides, a wildlife refuge and an 8,000 square foot ice skating pond! All adding up to make Grouse Mountain an excellent winter time destination even if you're not a skier or snowboarder.
Grouse Mountain

Vancouver, B.C.
Snow & Information L
Mount Seymour
The third offering for Vancouver skiing and snowboarding is Mount Seymour, at the eastern end of the North Shore Mountains. Usually quieter than Grouse Mountain, Mount Seymour still enjoys the similar great views over the city so is comparable in that respect.
There are 21 downhill ski runs in addition to snowboard, tubing and tobogganing courses, or how about some dogsledding?! If you want to visit at night time, the snowshoe tours are a popular attraction.
There is a shuttle bus running from A&W at Parkgate Mall (aka Parkgate Village Shopping Centre) on Mount Seymour Parkway in North Vancouver.
Mount Seymour

Vancouver, B.C.
Snow Report 604-718-
Ice Skating
There are a total of eight public indoor ice skating rinks in Vancouver, so no shortage of places to hit the ice, or if you prefer the outdoor experience you can head up Grouse Mountain and enjoy the 8,000 square foot skating pond there!
Here are the details of Vancouver's indoor ice skating rinks:
West End
The West End skating rink is the closest to Downtown Vancouver so although it's convenient, this is the smallest of Vancouver's public rinks at 147 x 74 feet.
West End skating rink

870 Denman Street
Vancouver, B.C.
604-257-8339
Kitsilano
Kitsilano ice rink offers a large skating rink at 200 x 85 feet and is one of the city's most popular skating rinks.
Kitsilano skating rink

2690 Larch Street
Vancouver, B.C.
604-257-6983
Britannia
Another popular Vancouver ice skating rink is at the Britannia Community Centre, east of the city.  Here you can also enjoy a number of other recreational activities too. The skating rink is a generous 200 x 85 feet.
Britannia skating rink

1661 Napier Street
Vancouver, B.C.
604-718-5800
Riley Park
In the Burnaby area of Vancouver is the Riley Park ice skating rink which measures 185 by 82 feet.
Riley Park skating rink

50 East 30th Avenue
Vancouver, B.C.
604-257-8545
Ice skating rinks are also available in Vancouver at Sunset (390 E 51st Ave, telephone: 604-718-6517) and at Kerrisdale (5670 East Boulevard, telephone: 604-257-8121).
The final two locations, Killarney and Trout Lake are currently closed as these are being re-developed in time to be used for the 2010 Olympic Winter Games.
All of the Vancouver public ice skating rinks offer skate rentals and skating times do vary by location. Please phone ahead before making a special journey, and you can also check the City of Vancouver website for updates.