Britannia Heritage Shipyards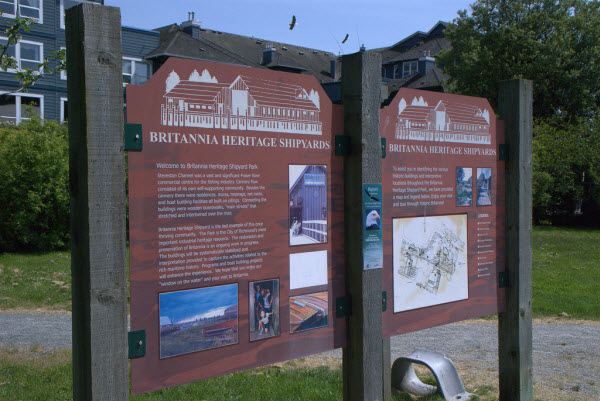 Where is the Britannia Heritage Shipyard?
The Britannia Heritage Shipyard is in the Steveston area of Richmond. Situated at 5180 Westwater Drive, at the foot of Railway Avenue, it's about a 35 to 45 minute drive from Downtown Vancouver, via Highway 99.
Britannia Heritage Shipyard Attractions
The Britannia Heritage Shipyard consists of many original buildings which were constructed when this small waterside community was thriving, and offers visitors an authentic representation of what life would have been like back then.
The shipyard started life as a salmon cannery when it was built in 1889, and it wasn't until 1919 that it started trading as a shipyard, doing so until it closed in 1980. During these years, many different nationalities of workers came and went. The Chinese had a particularly strong presence here, as did the Japanese and when you tour the site you can see where and how these workers used to live. There are numerous buildings here and together they all make up a registered National Historic Site which you are free to tour and find out more about the fascinating history of this place.
Britannia Heritage Shipyard Highlights
Walking Tour
There is a self-guided walking tour for visitors to the Britannia Heritage Shipyard and if you pick up a copy of the Walking Tour brochure you can find out about the buildings you see on the tour. These include the Boardwalk, which was the main street in the village, the Chinese Bunkhouse and the Murakami House and Boatworks.
Guided Tours
For a fee, guided tours are also available and if you're interested in finding out a little more about the Britannia Heritage Shipyard then this may be a better way of doing so as you'll get additional insight into the life of the village and shipyard and the people who lived here.
Displays and Restorations
There are also a variety of different maritime displays around the shipyard and there's always a restoration of at least one old or historic boat going on here so you can get a close look at what happens in the restoration process.
Special Events
Throughout the year, special events often take place at the Britannia Heritage Shipyard, including the Richmond Maritime Festival. Check the Activities & Events listing on the website below.
To find out more about the visitor attractions on offer at the Britannia Heritage Shipyard, as well as opening hours, please visit the City of Richmond Website.