North Vancouver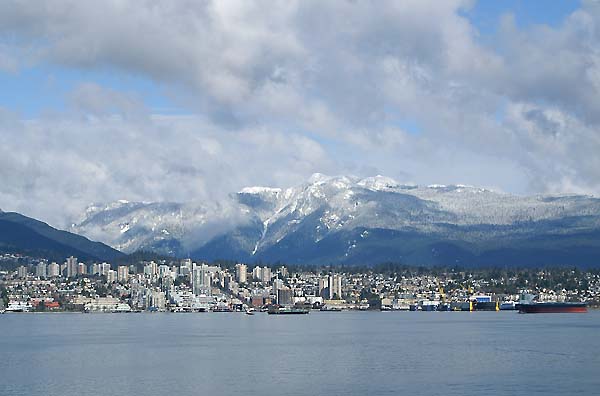 Where is North Vancouver?
North Vancouver is an area within Greater Vancouver on what's called the North Shore, situated across the Burrard Inlet from the main city and Downtown Vancouver.
Vancouver's public transport company, Translink, provides a great service to North Vancouver from downtown via the SeaBus which departs from just across the road from the Waterfront SkyTrain station. The SeaBus takes you to Lonsdale Quay from where you can use Transit to easily get around.
If you're coming to North Vancouver by car from Downtown the chances are you'll be crossing the Lions Gate Bridge from Stanley Park. Alternatively if you're to the east you may find it easier and quicker to cross via the Second Narrows Bridge (also now known as the Ironworks Memorial Bridge).
North Vancouver Attractions
The main appeal with North Vancouver is the North Shore Mountains. These are the most accessible mountains from Downtown Vancouver, so if you have an urge to journey to higher ground, this is the best place to do it! During the summer the mountains are great for getting stunning views of the city, and during the winter as well as the stunning views you also get to ski, all within just a short distance of the city!
As well as the mountains, there's also plenty more natural beauty here in North Van including lakes, parks and more. In fact, what surprises most visitors about North Van is just how close all this spectacular scenery is to the city!
North Vancouver Highlights
Capilano Suspension Bridge
If you can brave the crowds, you should try a visit to Vancouver's most popular attraction, the Capilano Suspension Bridge. The admission fee is not cheap if you're just visiting to walk across the bridge, but if you have longer to spare you can make a whole day of it and enjoy the other attractions here too. Read our Capilano Suspension Bridge page for further information.
Grouse Mountain
North Van's other very popular attraction is Grouse Mountain. Here you can take the Skyride to the 'Peak of Vancouver' and enjoy the views. Again, the Skyride fee is not cheap but if you stay for longer and enjoy the other attractions you can get our money's worth. Our Grouse Mountain page has all the details on what you can see and do at Grouse Mountain.
Lynn Canyon Park
The free and not so busy alternative to Capilano Suspension Bridge can be found at the Lynn Canyon Park. This is a provincial park and has a suspension bridge, which although not as long as Capilano is almost more fun because you don't have to worry about the crowds. You can read more on our Lynn Canyon Park page.
Mount Seymour Provincial Park
Almost as far east as you can go in North Van is the Mount Seymour Provincial Park. If you're looking to escape from the hustle of the city, this is a great place to do so – you're still very close to the city but feel as though you could be in the middle of nowhere! There are many hiking trails here for those who want to get closer to nature during the summer, and in the winter you can ski Mount Seymour. The 21 runs are generally less crowded than the closer to Downtown Grouse Mountain, and hence the atmosphere is a little more relaxed and local-oriented. You can find out more details on Mount Seymour Provincial Park on the BC Parks website or for further information about all the skiing and snowboarding opportunities in the Vancouver area, see our Winter Sports page.
Mount Seymour Provincial Park

1700 Mt Seymour Road
V7G 1L3
North Vancouver District, BC
604-986-2261
Capilano Salmon Hatchery
The Salmon Hatchery is an interesting side trip if you're visiting the Suspension Bridge, just 1.25 miles (2km) away. It's essentially a fish farm but is run by the Federal Department of Fisheries and Oceans in order to protect valuable stocks of three types of fish: steelhead salmon, Coho and Chinooks. You can watch the fish make their way through the viewing tanks and although there are different things to see throughout the year, October is said to be one of the best months as you'll see the return of the Chinooks as well as the salmon swimming upstream to spawn. A visit here becomes even more appealing when you discover that admission is free! To find out more about the Capilano Salmon Hatchery please visit the Fisheries and Oceans website.
Capilano Salmon Hatchery

4500 Capilano Park Road
North Vancouver, B.C.
604-666-1790
Lonsdale Quay
If you're getting to North Van via the SeaBus, you'll arrive at Lonsdale Quay and, being a transportation hub you can get Transit all over the North Shore from here. In addition you may want to spend some time at the quay because it contains Vancouver's second best market. The indoor market is inside the waterfront building which was originally built for Expo '86 and here you'll find fresh produce, including fish and also many stalls selling books, clothes and more. If you'd rather stay outside, there's a nice boardwalk where you can enjoy views of the south shore and the city.
Lonsdale Quay

123 Carrie Cates Court
North Vancouver, B.C.
604-985-6261
Maplewood Farm
Families with younger children will especially love a visit to Maplewood Farm, the last remaining farm on the North Shore. You can interact with over 200 animals and birds here including rabbits, goats and much more. See our Maplewood Farm page for all the details.
Park & Tilford Gardens
Park & Tilford Gardens is a 3 acre garden which features 8 themed areas and is particularly well known for its Rose Garden with 24 different varities in nearly 300 plants. Find out more about the Rose Garden and the other themed gardens on our Park and Tilford Gardens page.
Lower Seymour Conservation Reserve
Formerly known as the Seymour Demonstration Forest, the Reserve is full of diverse landscapes, hiking trails, mountain biking, fishing and more. This is another of Vancouver's great getaway destinations! Read more on our Lower Seymour Conservation Reserve page.
For more information on everything you can see and do in North Van visit the City of North Vancouver website.